MD Anderson Cancer Center Travel Tips: Food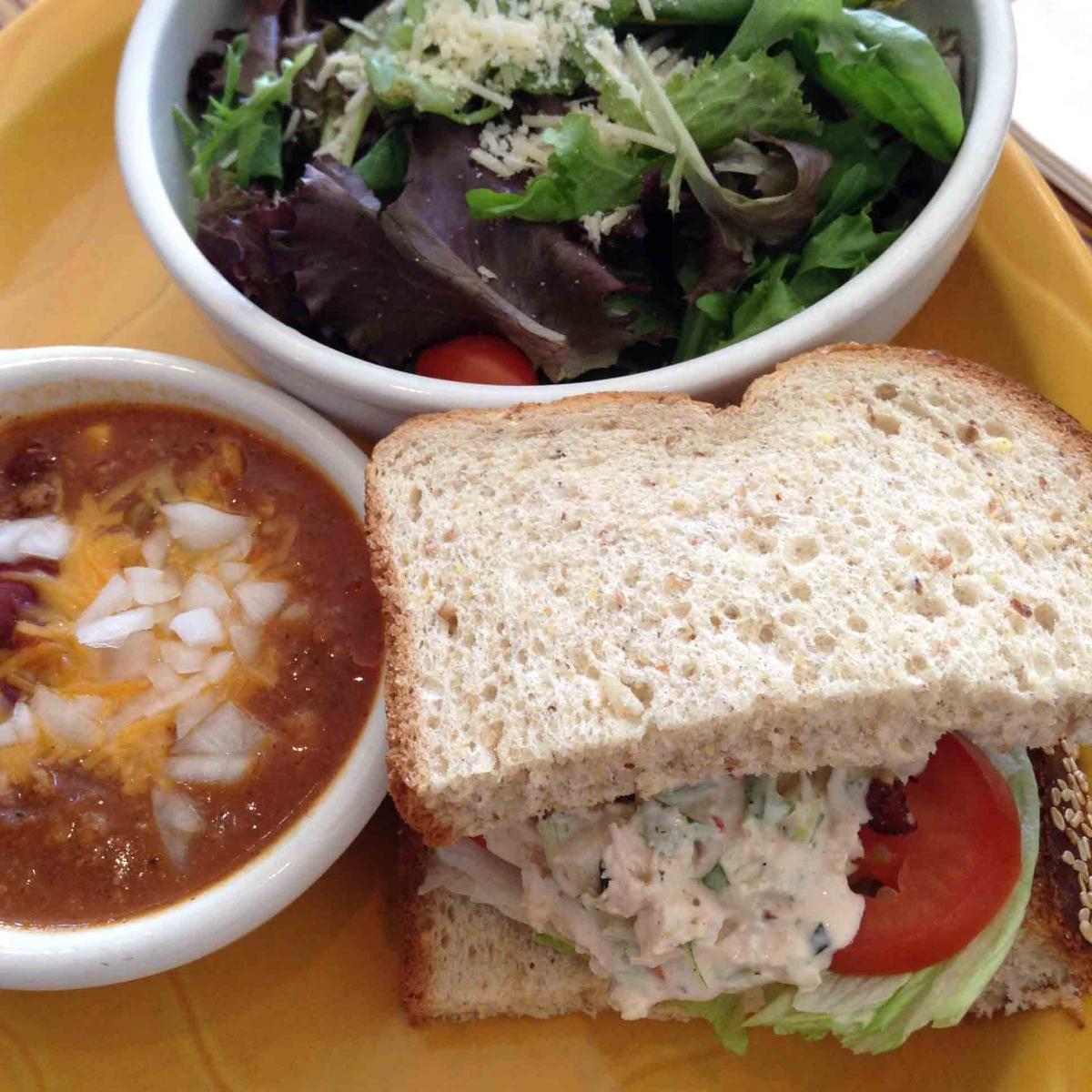 These are my favorite places to eat and get food in Houston, Texas when I go to MD Anderson Cancer Center for appointments.
I look for healthy restaurants and food options when I'm at MD Anderson. Cafeterias and cafes at MD Anderson, casual sit-down restaurants, take out places or even supermarkets that don't break the wallet!
I'll be adding to the list as I venture around more! Here's what I found so far:
- Restaurants near MD Anderson -
Pho Binh - at Westheimer and Fountain View Dr. [5/5 stars]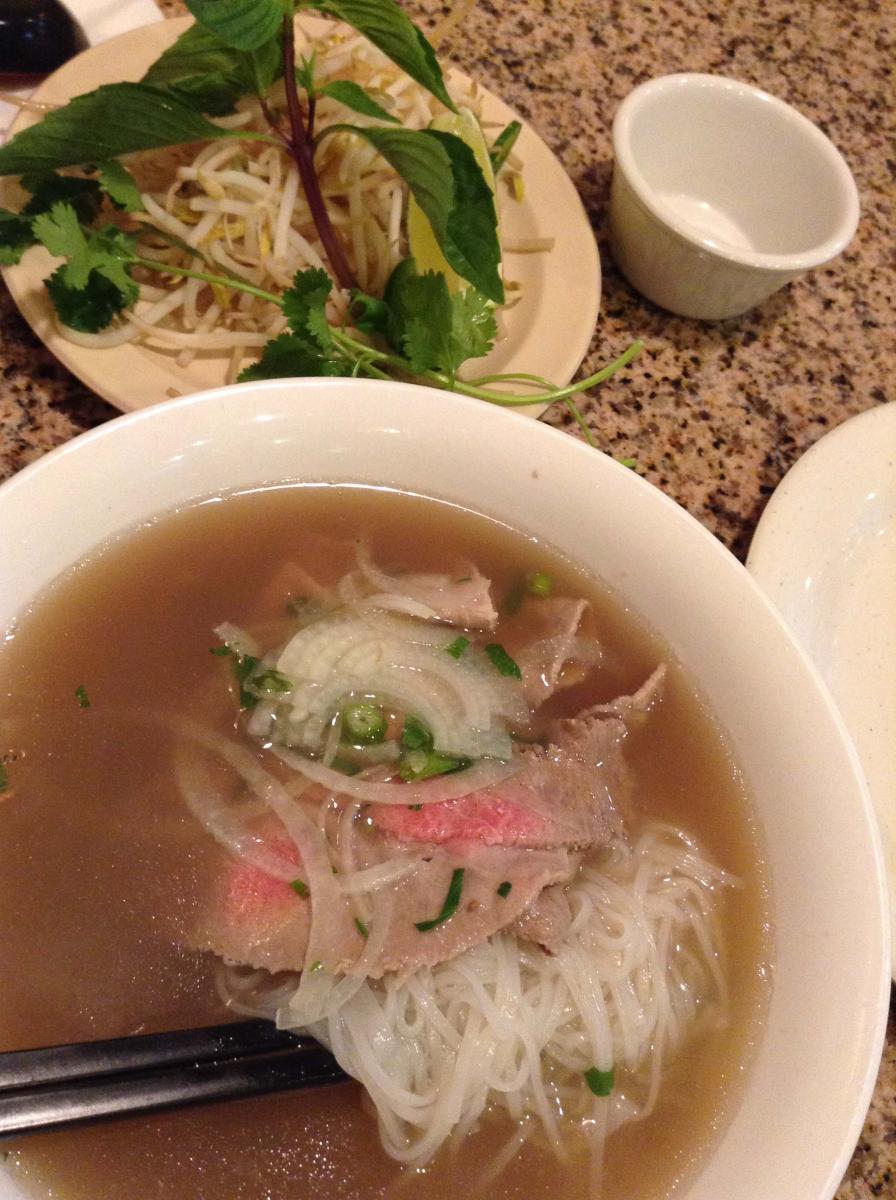 Sometimes I just need a hot noodle soup, and Pho Binh is the perfect place. MSG-free, with good quality beef pho and rich bone marrow! There are also rice dishes, vermicelli, sandwiches, and huge slices of cake. Cancerhusband notes he likes the music selection here.
I like to order P2, the rare steak noodle soup, which has lean slices of beef over rice noodles and hot beef stock. Bean sprouts, basil, cilantro and lime accompany the noodle soup (regular $6.95, large $7.95). The beef stock has the fragrance of star anise. For a treat, I add a small side of creamy bone marrow ($3).
After ordering at the counter, take your number to any table and your food will be brought out to you. Utensils are self-serve.
5901 Westheimer Rd., Unit U, Houston, TX 77057 (713) 781-8881
Mon-Sun 10am-10pm
Cafe Express - on Southwest Fwy [4/5 stars]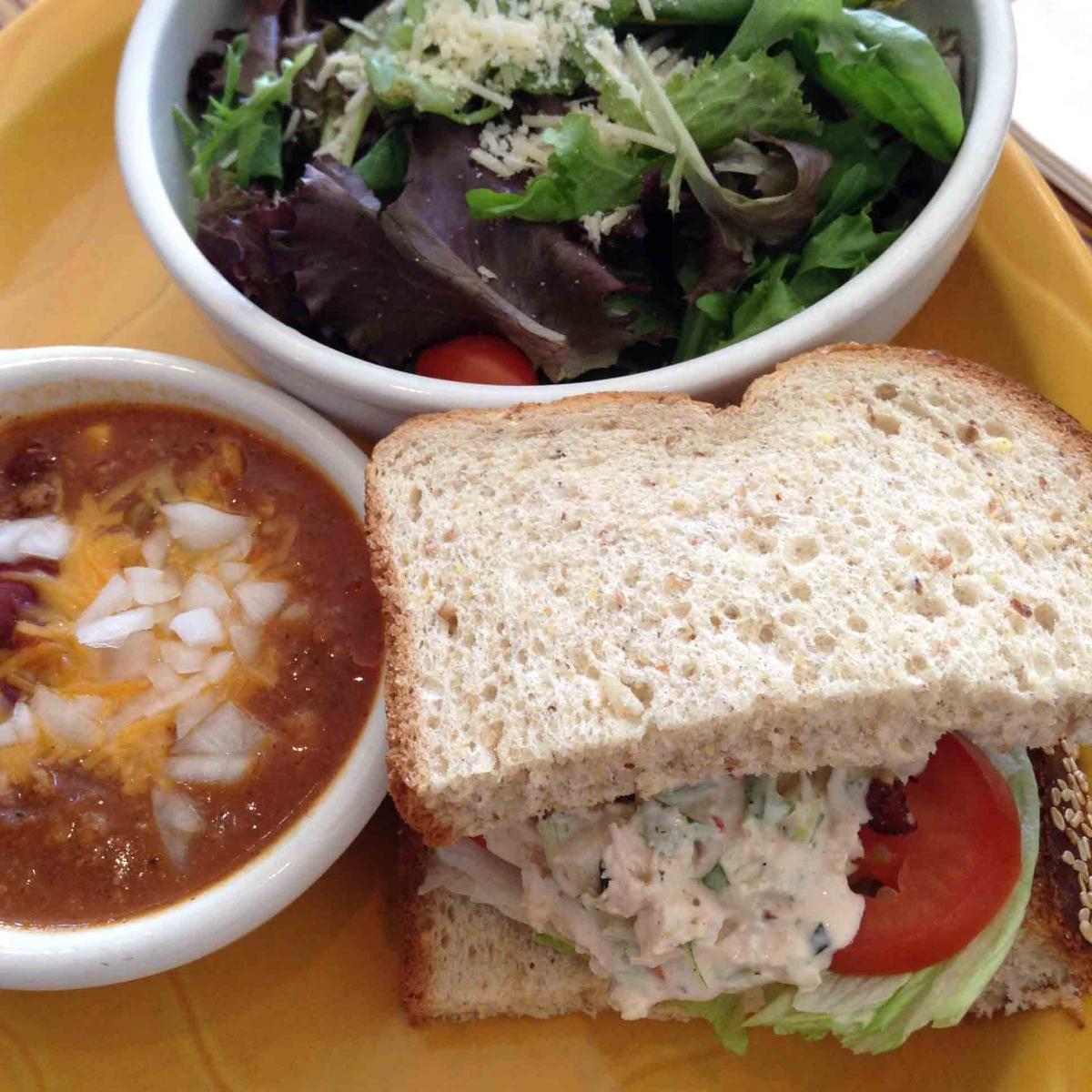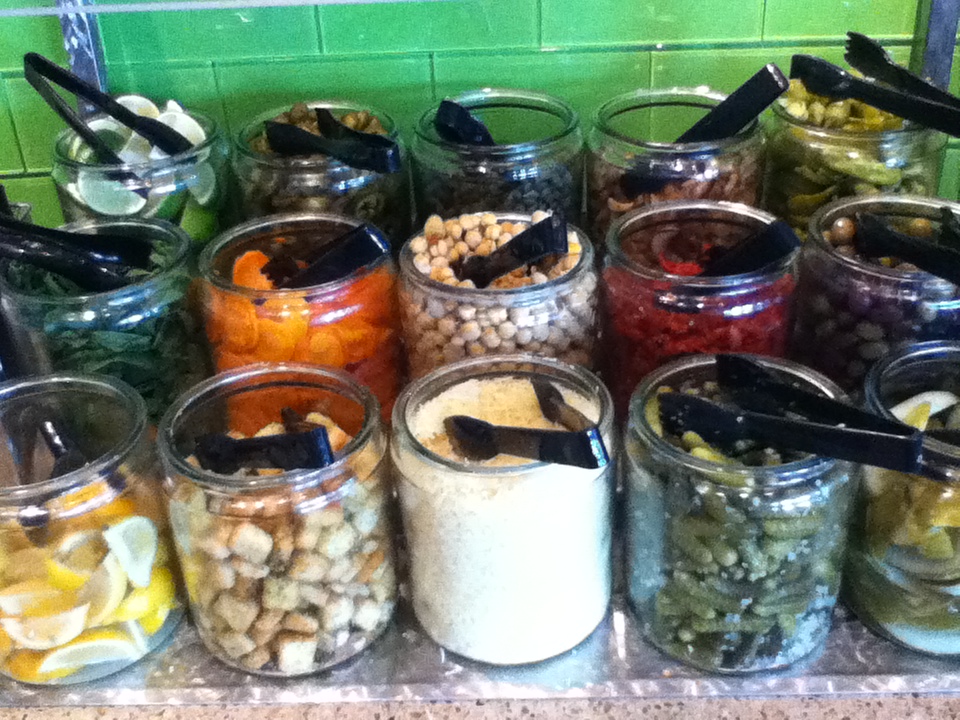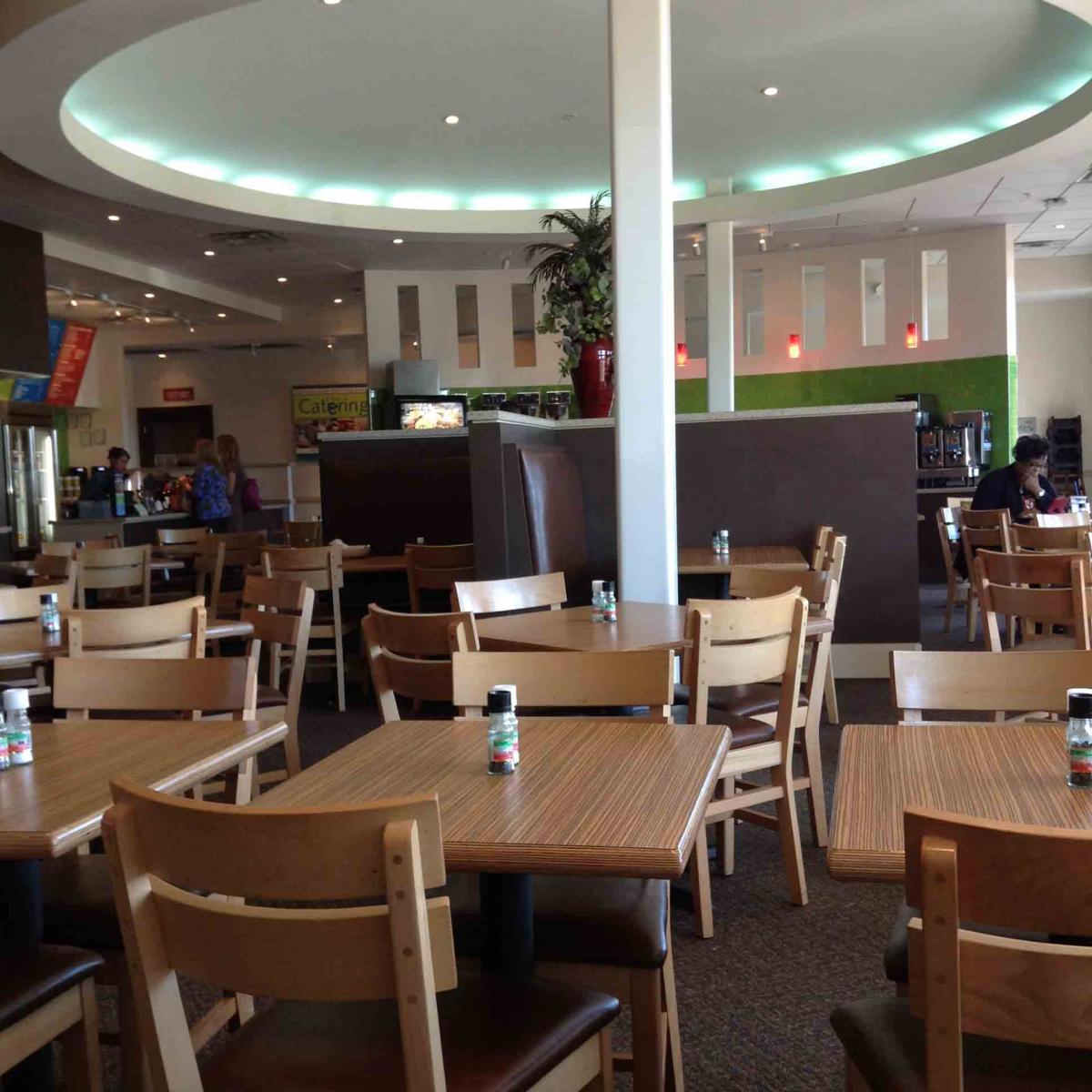 A local chain with a few branches in Houston. They serve American style food: pastas, burgers, sandwiches, salads.
I ordered the half sandwich combo, which comes with a cup of soup AND salad. I enjoyed the chicken salad sandwich, which had pecans in it. The combo was more than filling, especially with the condiment bar! The best part of Cafe Express is the condiment bar, which has about 12 different items to choose from! Sundried tomatoes, roasted garlic, garbanzo beans, various peppers and pickles, cheese. You can add as much of these condiments to anything that you order.
The self-serve iced teas are very delicious: there is a black current tea, a decaf green tea, and a sweetened tea as well. I like to get a mixture of the three. There is fresh mint and lemon to add to the iced tea or to water. The decaf coffee is quite smooth as well.
You order at the counter and get a pager to pick up the food when it's ready. There is also free wi-fi here.
1422 West Gray, Houston, TX 77019 (713) 522-3100
Mon-Sun 7am-10pm
Jenni's Noodle House - 2027 Post Oak Blvd (just North of the Galleria Mall)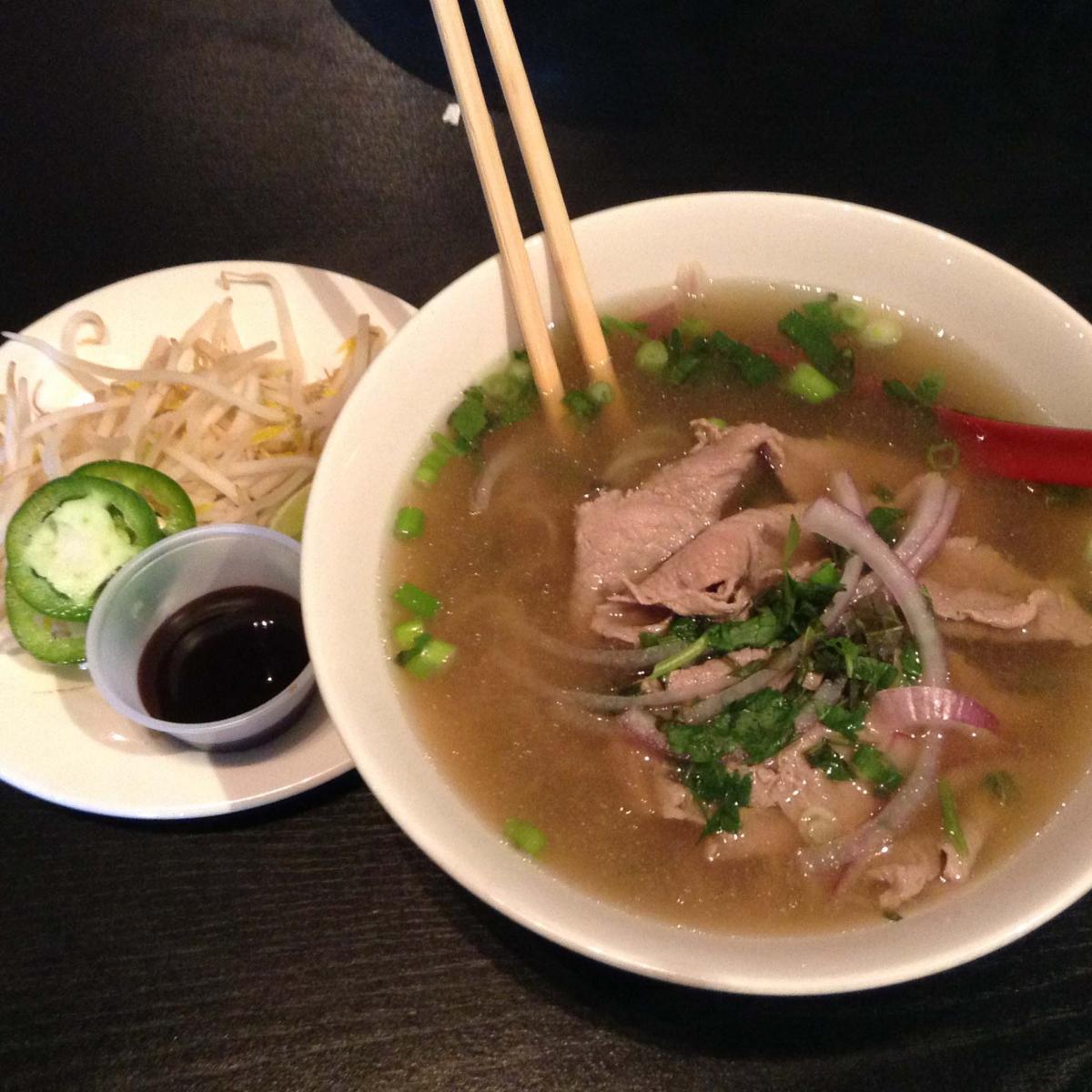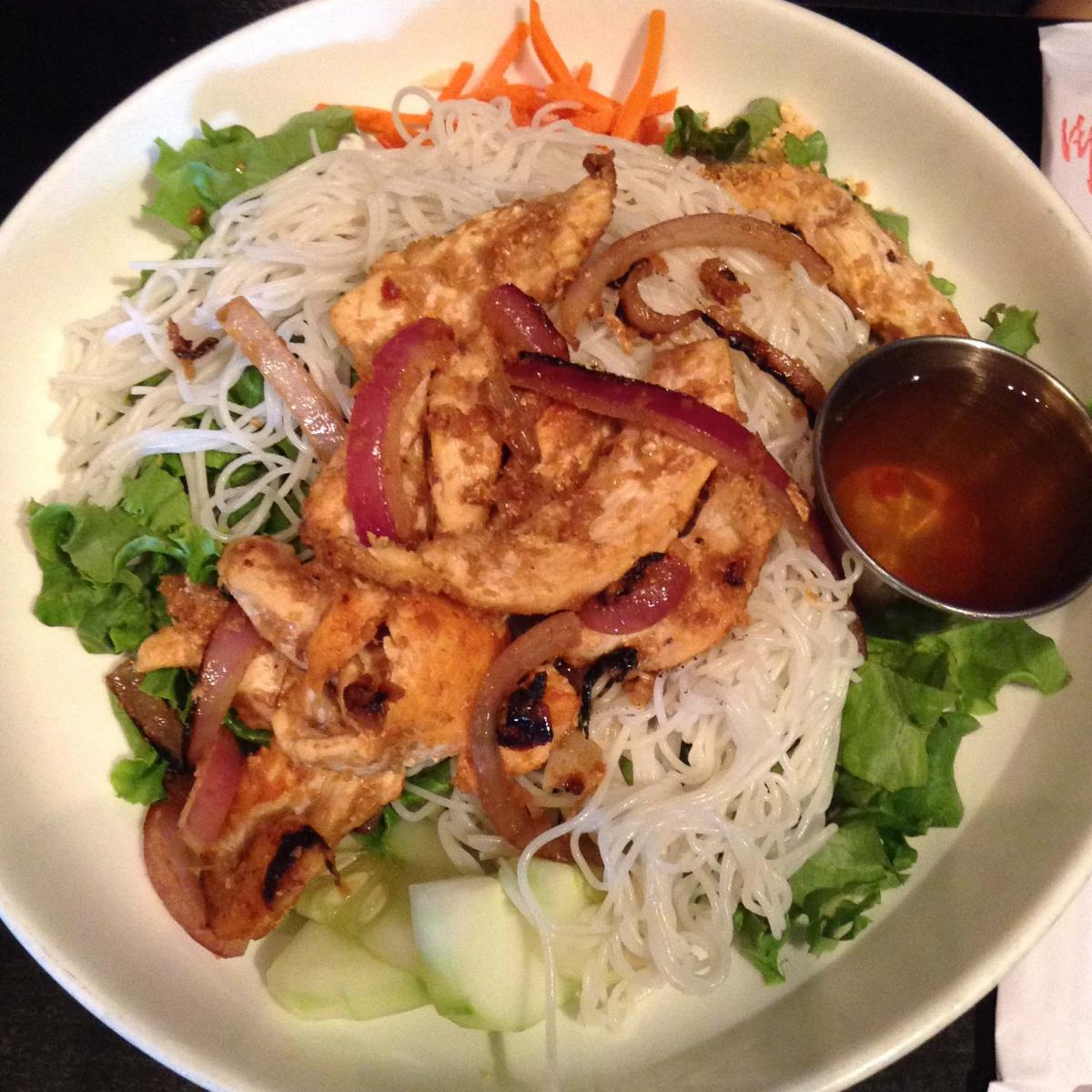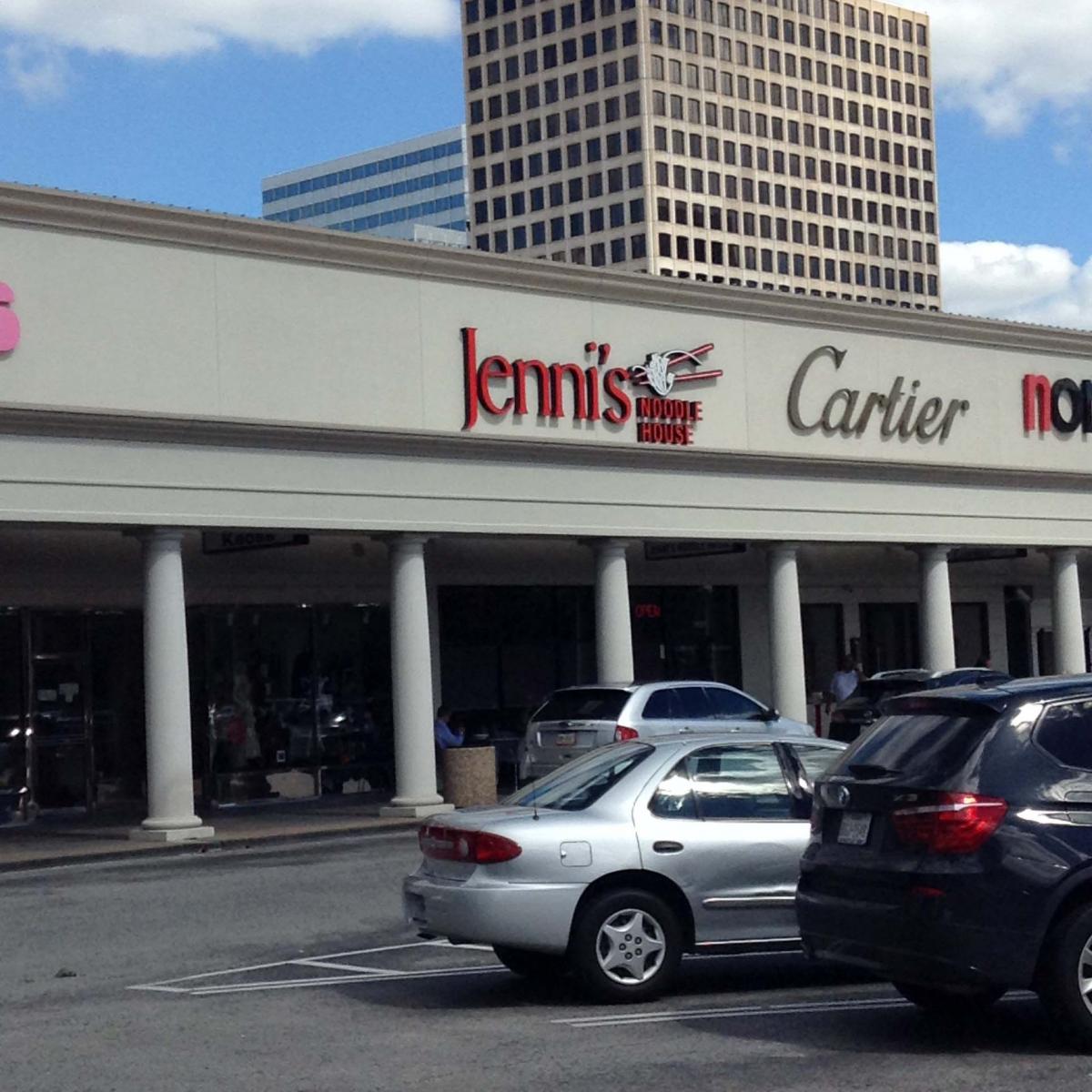 Jenni's is closer to MD Anderson compared to Pho Binh. The prices are a bit higher than Pho Binh, but the quality is quite good as well. They don't advertise as "MSG-free", but I can say I didn't get any MSG attack after having their Pho.
Their beef pho ($9) has thicker slices of beef, which became a little tough for me to eat towards the end. But all in all, quite a good pho. The lemongrass chicken vermicelli salad ($10) that CancerHusband had was mainly a salad, with a small portion of noodles.
This is an order-at-the-counter, seat-yourself type of restaurant. Utensils and drinks are self-serve.
2027 Post Oak Blvd, Houston, TX, 77056 (713) NOODLES
Mon-Sat 11am-10pm, Sun 12noon-9pm
Corner Bakery Cafe - Westpark and Kirby [4/5 stars]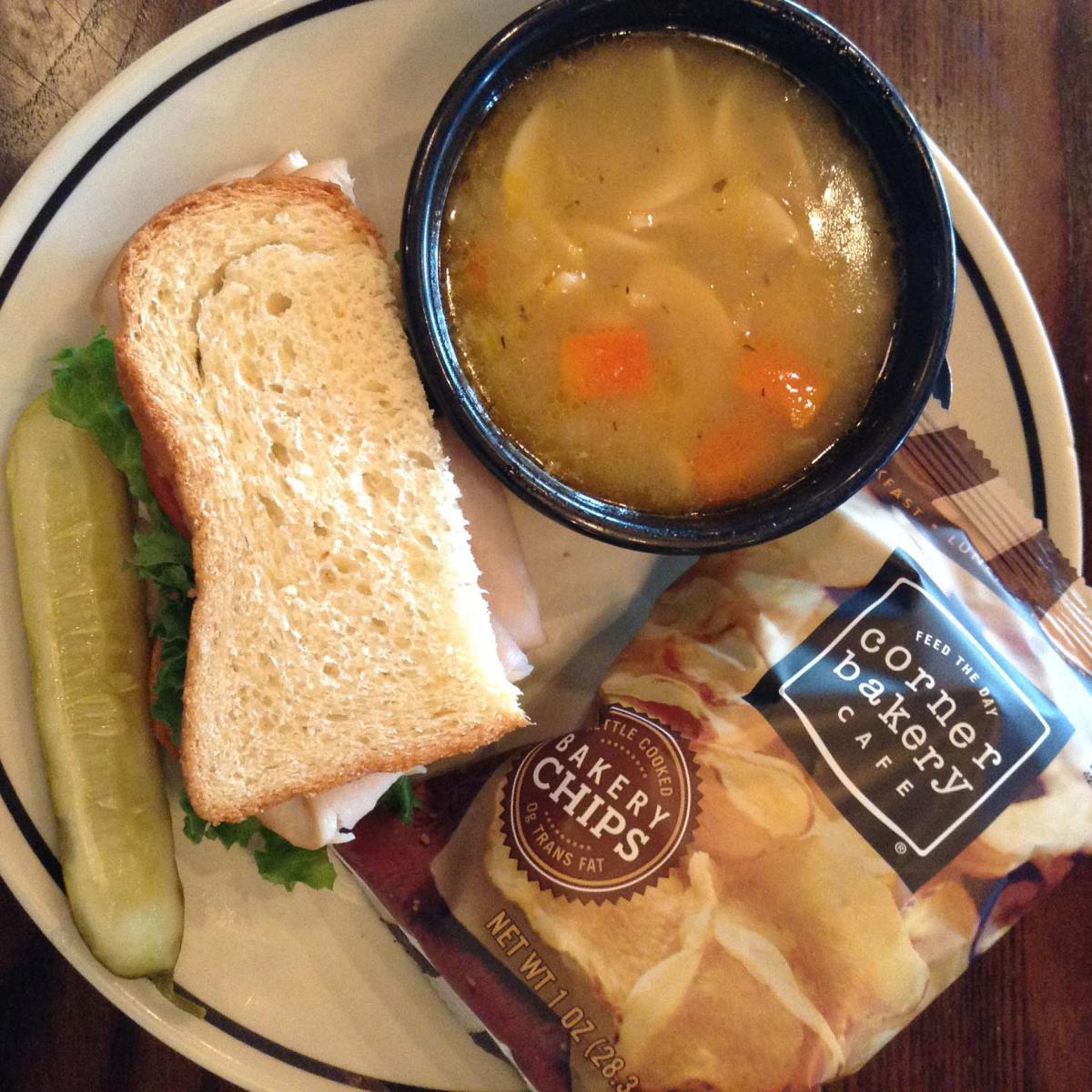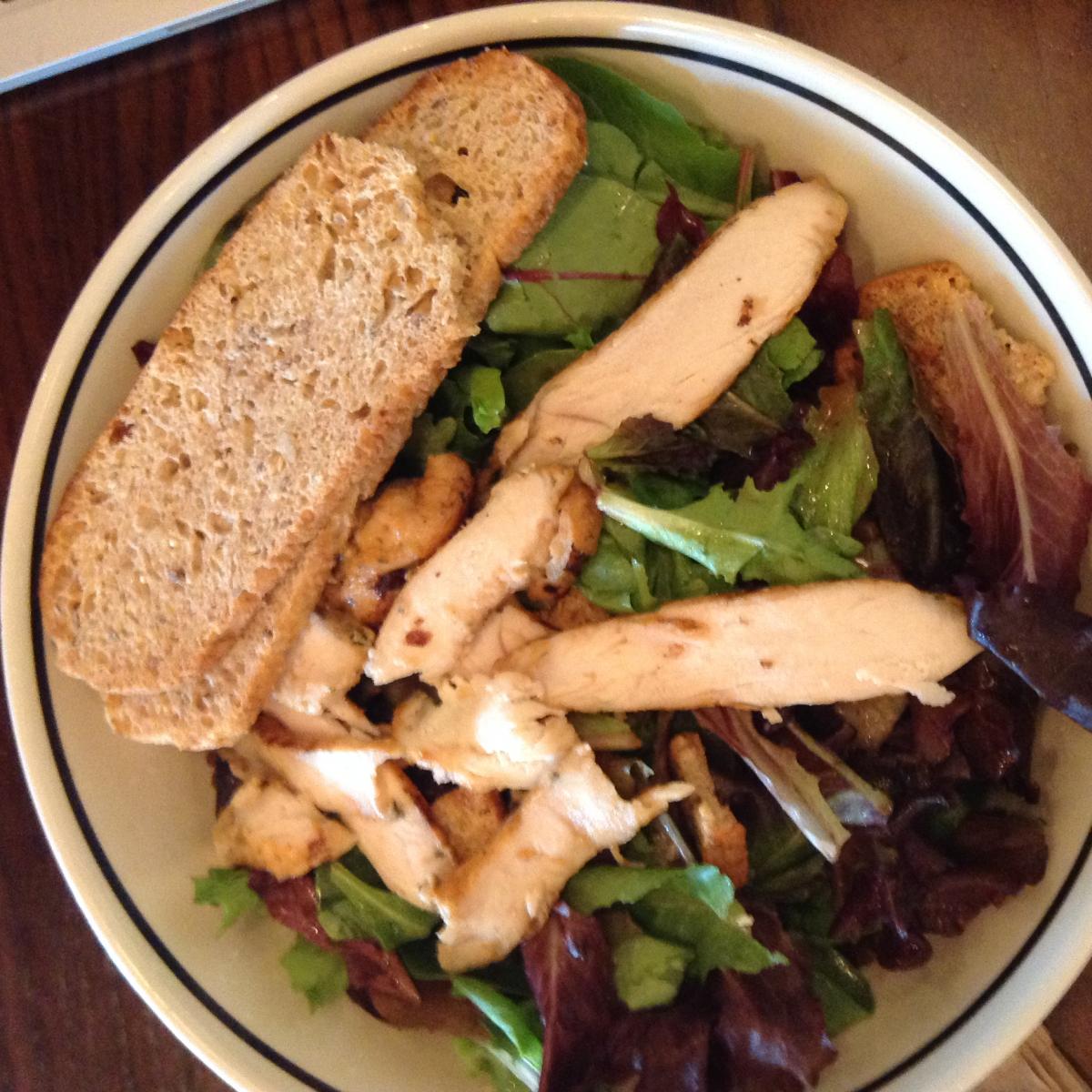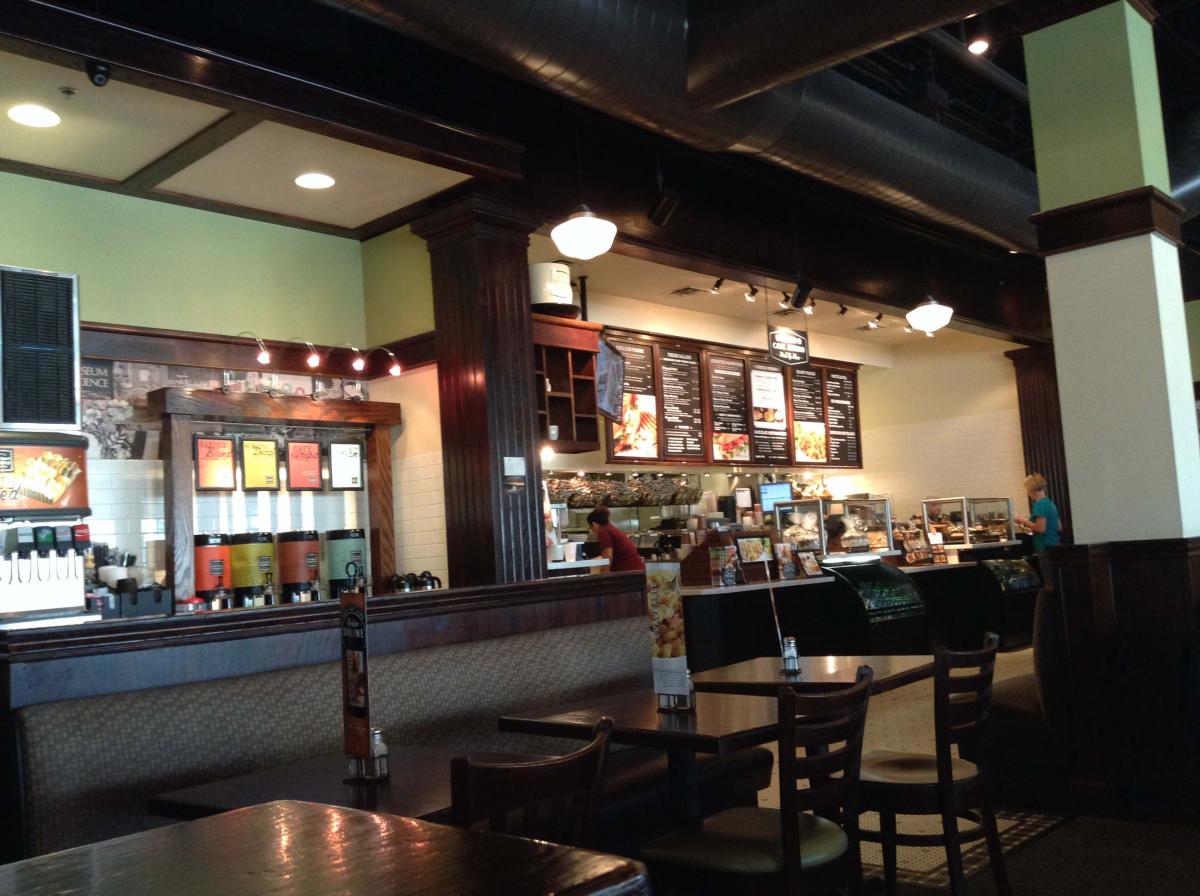 This is a chain restaurant, like Panera, with sandwiches, soups, salads and pastas. But the overall value is better. I thought the seating is more spacious and the free wifi is always a plus!
They serve a delicious Mighty leaf blackcurrant iced tea here, which I'm always tempted to order. I had a Mom's Sandwich Combo: half turkey sandwich with a cup of chicken noodle soup, potato chips and a pickle. Cancerhusband had a Harvest salad: chicken (added on), green apples, walnuts, currants tossed with mixed greens, balsamic vinagrette and harvest crips (of which he already took a bite of).
Order at the counter, put your number at your table and the server will bring out your food.
2615 Southwest Freeway, Suite 100, Houston, TX, 77098 (713) 520-8211
Mon-Sat 6:30am-9pm, Sun 7am-8pm
Peiwei - Westpark and Buffalo Speedway [4/5 stars]
This is an casual Asian eatery where you order at the counter, then the food will be brought to your table.
We always enjoy their hot and sour soup. Just enough spiciness and tang to give your appetite a kick! We order 1 bowl (for $3.99!), and it's enough for the two of us to have two small bowls each.
The entrees are in offered in a small or regular size. There's a big assortment of rice dishes, which come with white or brown rice. CancerHusband always goes with the rice dishes. I prefer noodles, so I've tried the Pad Thai and Lo Mein, both are decent.
Tip: I appreciate that you can request your protein to be steamed, at no extra cost, because it is healthier when less oil is used to cook the meat.
5110 Buffalo Speedway Suite 100 Houston, TX 77005
(713) 661-0900
Goode Co. BBQ - on Kirby [3/5 stars]
If you're craving some local BBQ, Goode is a fun place to get ribs, brisket, smoked chicken. All the meats are mesquite smoked on location. Sides of jalapeño pinto beans, jambalaya, potato salad, coleslaw, baked beans complete the meal. Combos come with a slice of jalapeño cheese bread, which is quite spicy!
There are quite a few branches, but this one that I've gone to is the original location. It's a cafeteria style restaurant, where you line up and order and pay for your food. There is seating inside the small restaurant, and outdoor picnic bench seating as well.
Goode's Armadillo Palace - on Kirby [3/5 stars]
If you're looking for a sitdown restaurant, right across the street, there is the Goode's Armadillo Palace. You will not be able to miss this restaurant on Kirby, as there is a LARGE shiny armadillo right in front of the restaurant. They don't serve BBQ here though, but they serve many Texas favorites. I tried the venison chili, which was very good, with tender chunks of meat and no beans. They also serve chicken fried steak, frito pie, sandwiches, burgers.
They have live music on certain days of the week.
Vietopia - Westpark and Buffalo Speedway [downgraded to 1/5 star from 4/5 stars]
An upscale Vietnamese restaurant with good lunch specials. $9 lunch special includes an appetizer along with the main dish, such as pho (noodle soup). I like their dry vermicelli noodle with flamed beef, which was quite tender and flavorful. They also have rice plates with various types of grilled meats.
*Update July 2014* - I had two bowls of hot and sour soup, followed by a bowl of beef noodle soup. I had a *severe* MSG attack, where my entire back felt numb and sore. I suspect it may be the hot and sour soup. But, I was very disappointed as I cannot go back with that amount of MSG that was put into the food. I will miss the ambiance there!
- Supermarkets near MD Anderson -
Whole Foods Market - Kirby and W. Alabama (Organic, Gluten-Free) [4/5 stars]
We try to eat healthy whenever we are traveling, so Whole Foods Market is our friend! Whole Foods sells organic foods and has many options for ready to eat meals as well. This Whole Foods is close by to both the hotels suggested below.
I really like this Whole Foods because it has a fresh juice bar. For $5 you can get a 16oz cup of carrot, beet and kale fresh made juice! You can customize the juice however you'd like with carrot, cucumber, apple, spinach, lemon, kale, lime, celery, beet, parsley, ginger, cilantro, garlic and jalapeño! If that's too many choices for you, they have preset combinations that you might fancy.
There is also a self-serve salad bar, with many organic options, and a hot food bar for about $8/pound. Sandwiches and burritos can be custom made (about $7-8). Pizzas are freshly baked (2 slices for $5 is a great deal!). Hot rice bowls and noodle soups are available as well (about $8-9). The noodle soups are packed with the hot soup in a separate container, so you can mix the two when you're ready to eat. It comes with lots of vegetables too!
Krogers - Westpark and Buffalo Speedway (Organic, Gluten-Free) [3/5 stars]
This is quite a large supermarket, with a Starbucks, deli and hot food section. There is a dining area upstairs with free wi-fi. There is also a good selection of organic fruits and vegetables and frozen organic entrees. The prices here are sometimes lower than at Whole Foods.
Other MD Anderson Cancer Center travel tips: