anti-PD1 Approved for Lung Cancer!
Anti-PD1, which is one of the more potent checkpoint blockade treatments with very mild side effects, has just been approved for lung cancer.
The name for this approved anti-PD1 is Opdivo, or nivolumab, made by Bristol Myers. Specifically, it's for squamous non-small cell lung carcinoma (NSCLC) patients who have failed platinum based chemotherapy. This means medical insurance will cover the cost of anti-PD1 for patients with this specific condition.This adds to the growing evidence that anti-PD1 is effective in lung cancer (See this discussion between lung oncologists about anti-PD1).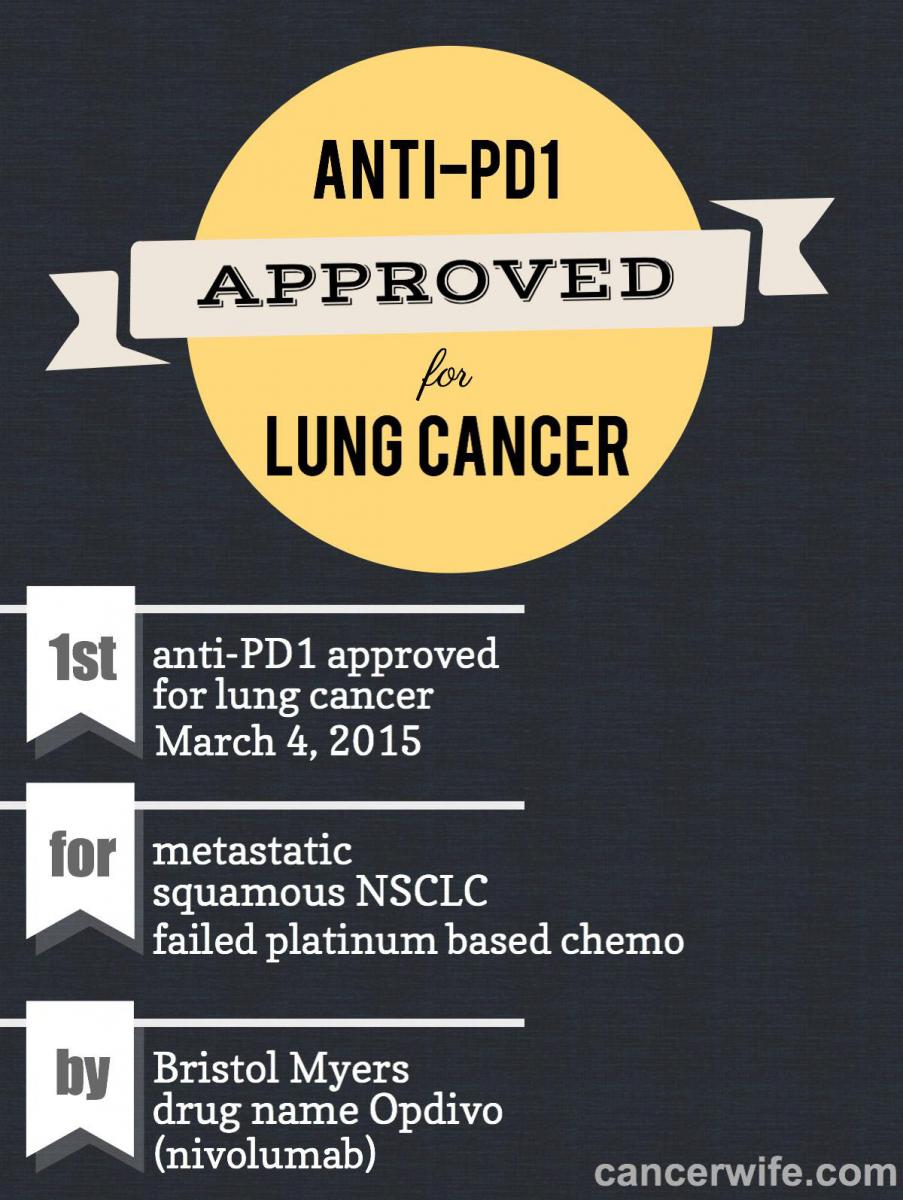 In the FDA approval annoucement, it talks about the trial results that led to the approval:
"Opdivo's efficacy to treat squamous NSCLC was established in a randomized trial of 272 participants, of whom 135 received Opdivo and 137 received docetaxel. The trial was designed to measure the amount of time participants lived after starting treatment (overall survival). On average, participants who received Opdivo lived 3.2 months longer than those participants who received docetaxel.
The safety and efficacy of Opdivo to treat squamous NSCLC was supported by a single-arm trial of 117 participants who had progressed after receiving a platinum-based therapy and at least one additional systemic regimen. The study was designed to measure objective response rate (ORR), or the percentage of participants who experienced partial shrinkage or complete disappearance of the tumor. Results showed 15 percent of participants experienced ORR, of whom 59 percent had response durations of six months or longer."
Only about 9% of patients had tumor shrinkage lasting 6 months or longer. The results don't seem that great, but there are 2 things I wanted to point out:
1) anti-PD1 releases the brakes on the immune system. Even if the immune system has been unleashed with anti-PD1, it will not kill cancer unless the immune system has been trained to recognize the cancer. (Analogy: army tanks are sent out with full ammunition without knowing who the enemy is. So they go in all directions, unable to target the enemy.)
My guess is the 85% who did not respond to anti-PD1 is because their immune system was not trained to recognize their cancer.
How to train the immune system to recognize cancer then?
The best way I know is cryoablation, as it kills lung tumors easily and attracts the immune system to the dead tumor. I've had it done 3x before, it's a 1 day procedure - I walked in the hospital in the morning and walked out that same afternoon.
Radiation is a second best possibility, but this has potential serious side effects (pneumonitis) for the lung and does not train the immune system as well as cryoablation. But, doing radiation with anti-PD1 is better than just doing anti-PD1 alone to increase the chances of achieving a full immune attack on the cancer.
2) The importance of the 9% patients who had long duration of positive response. These patients most likely had the 2 parts in place: their immune systems were trained to recognize their cancer AND then PD1 unleashed the immune system's full attack onto the cancer.
The difference between immunotherapy and chemo/radiation/targeted therapy is that when a positive response is attained with immunotherapy, it can be long-lasting without readministering the treatment. Cancer immunotherapy assists the immune system to attack the cancer and to develop long-lasting memory against cancer.