Jesse H. Jones Rotary House International, MD Anderson Hotel Review

The Rotary House International Hotel is connected to the MD Anderson Cancer Center complex. Since the hotel is owned by MD Anderson, it caters to the needs of the patient. The hotel is managed by Marriott, but Marriott points don't apply to this hotel.
The hotel was completely remodeled in 2016, so this is an updated review of the renovated Rotary House Hotel.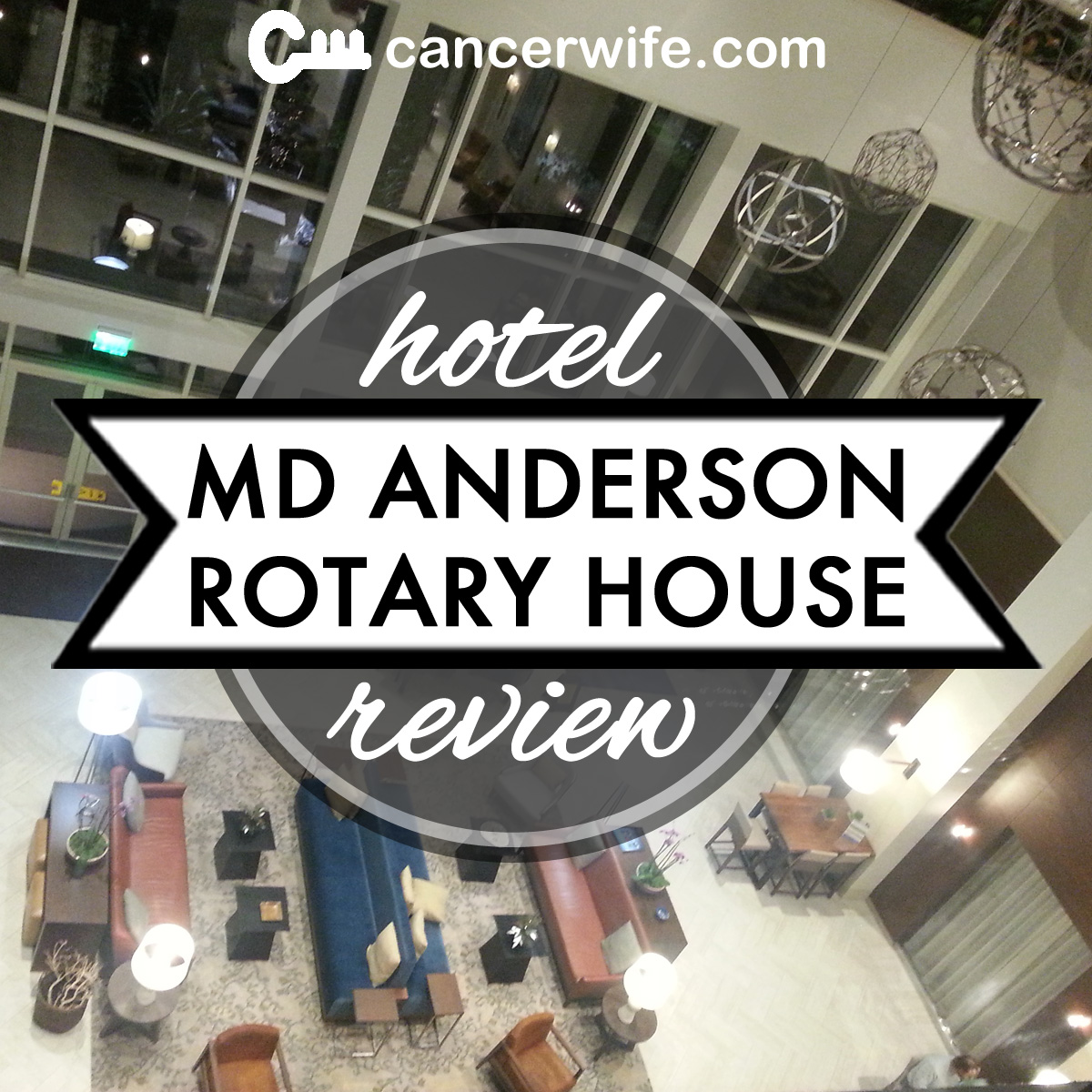 Why stay at the Rotary House?
This hotel is ideal if it's your first time to MD Anderson, you have early morning appointments, or you simply want a stress-free stay at MD Anderson. I felt so cared for and stress-free when staying here. The hotel is connected to all of the MD Anderson buildings. So whether it's storming outside or boiling hot, it's no problem to walk a few minutes to the clinics via the enclosed walkways.
When to book at the Rotary House?
Once you have your appointment at MD Anderson, call (800) 847-5783 to make your booking. I hear that the hotel can be fully booked at times! I book about 2 months ahead of my appointment.
The reservation staff are very efficient and friendly. Usually an email with the confirmation code is sent to you right after your phone reservation.
What kinds of rooms are available at the Rotary House?
Rotary House rates as of March 2017:
2 Queen-size beds: no kitchnette $156, with kitchenette $159
Suite with king-size bed and kitchenette $205
Suite with queen-size bed and kitchenette $190
Executive suite with king-size bed $310, with queen-size bed $285, with 2 queen-size beds $335
Executive room with 2 queen-size beds $205
Parking daily fee, call Rotary House to inquire about cost.
The King room with and without kitchenette have a microwave and refrigerator. The difference with the kitchenette room ($10 more) is there is an additional small bar sink and an additional bathroom sink. The kitchenette does not have a stove.
ROOM DETAILS
The room is tastefully decorated with soothing colors and photographs on the wall. I found it to be very quiet here, as all the guests are here for medical reasons, and not for partying, as is the case in other hotels.
There is complimentary WiFi. It was strong enough for video conferencing from the computer.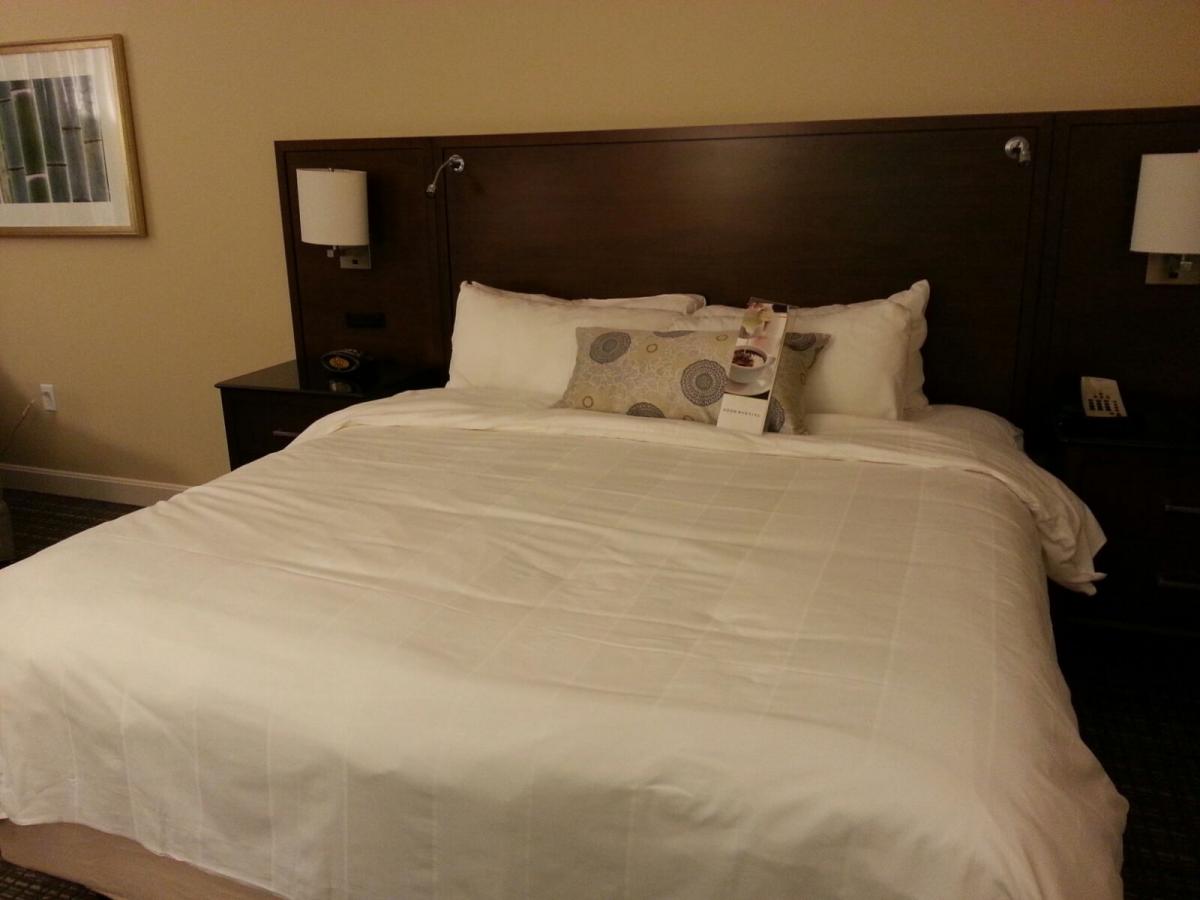 King bed with 4 pillows
The room is spacious with a king sized bed, 2 arm chairs, a side table, a rollable working/dining table, and an office chair. The windows of the room do not open. The temperature of the room can be controlled by the thermostat.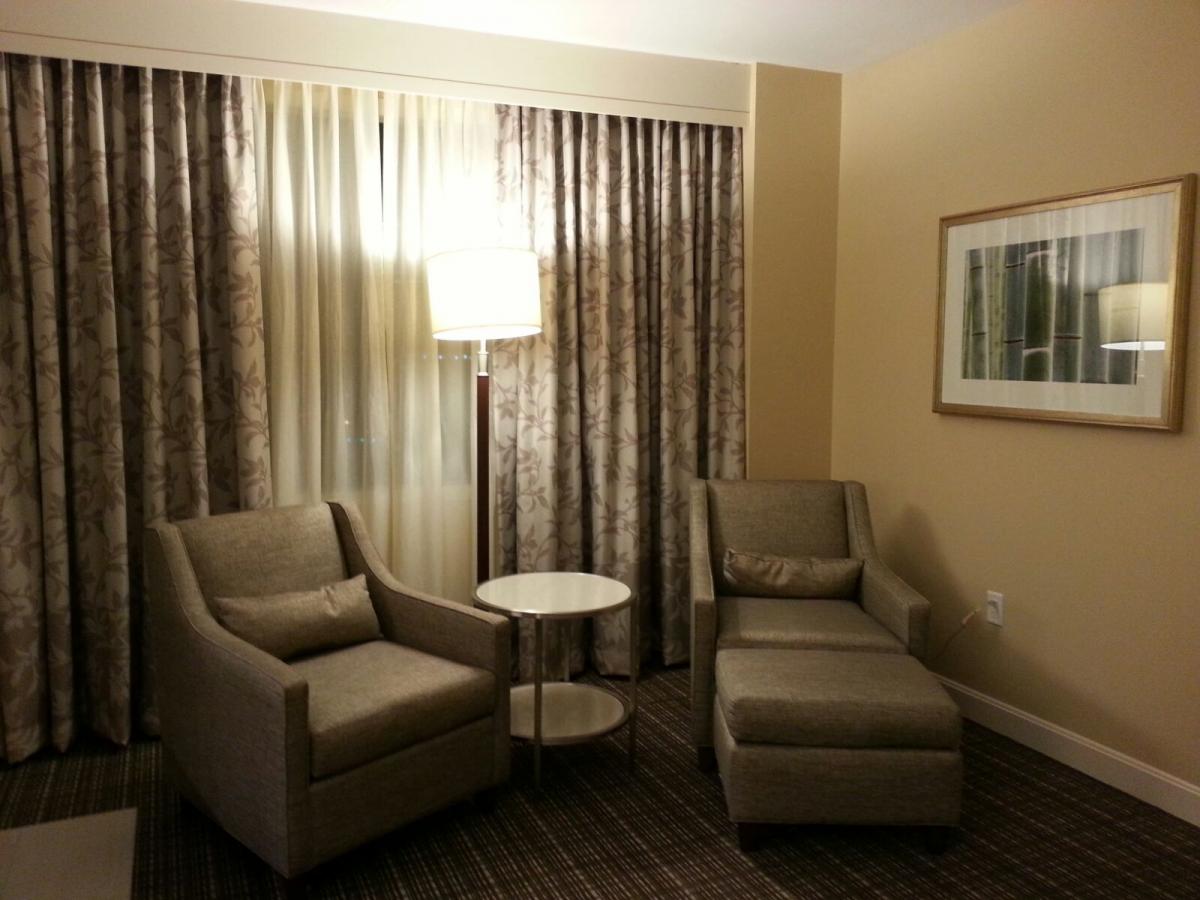 Two armchairs, small round side table and a foot rest.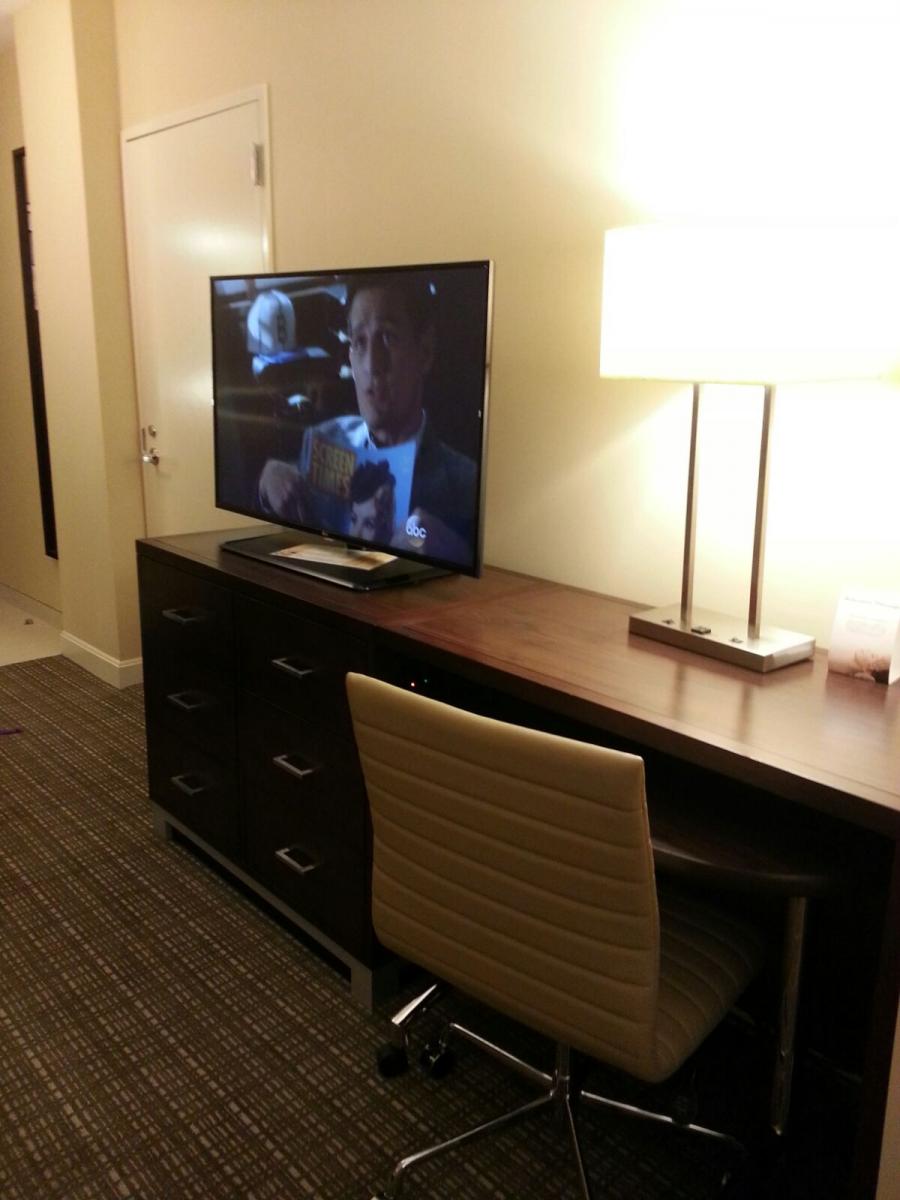 Rollable office desk is underneath the lamp.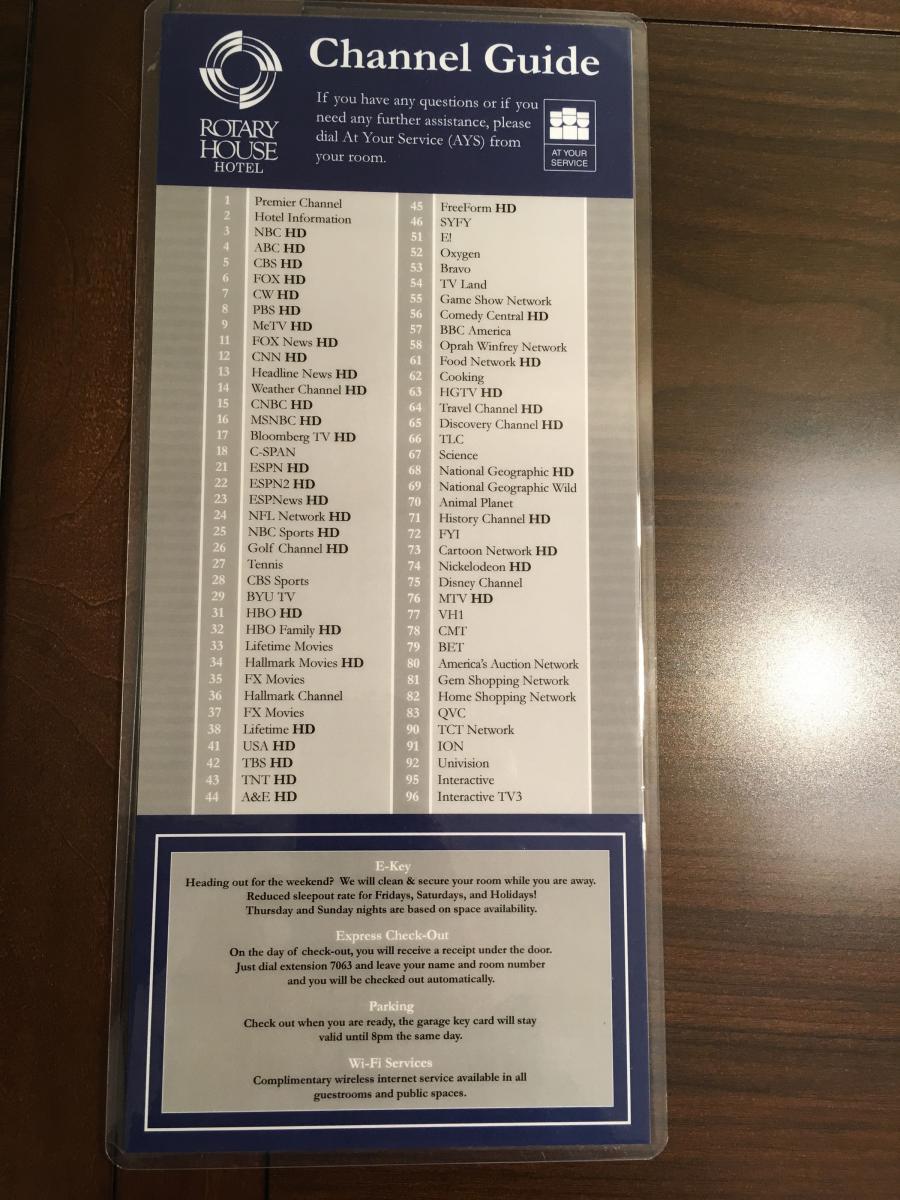 Flat screen TV with many channels (including CNN, ESPN, HBO, BBC, Food Network, Travel Channel, TLC, Science, National Geographic) Click picture to enlarge.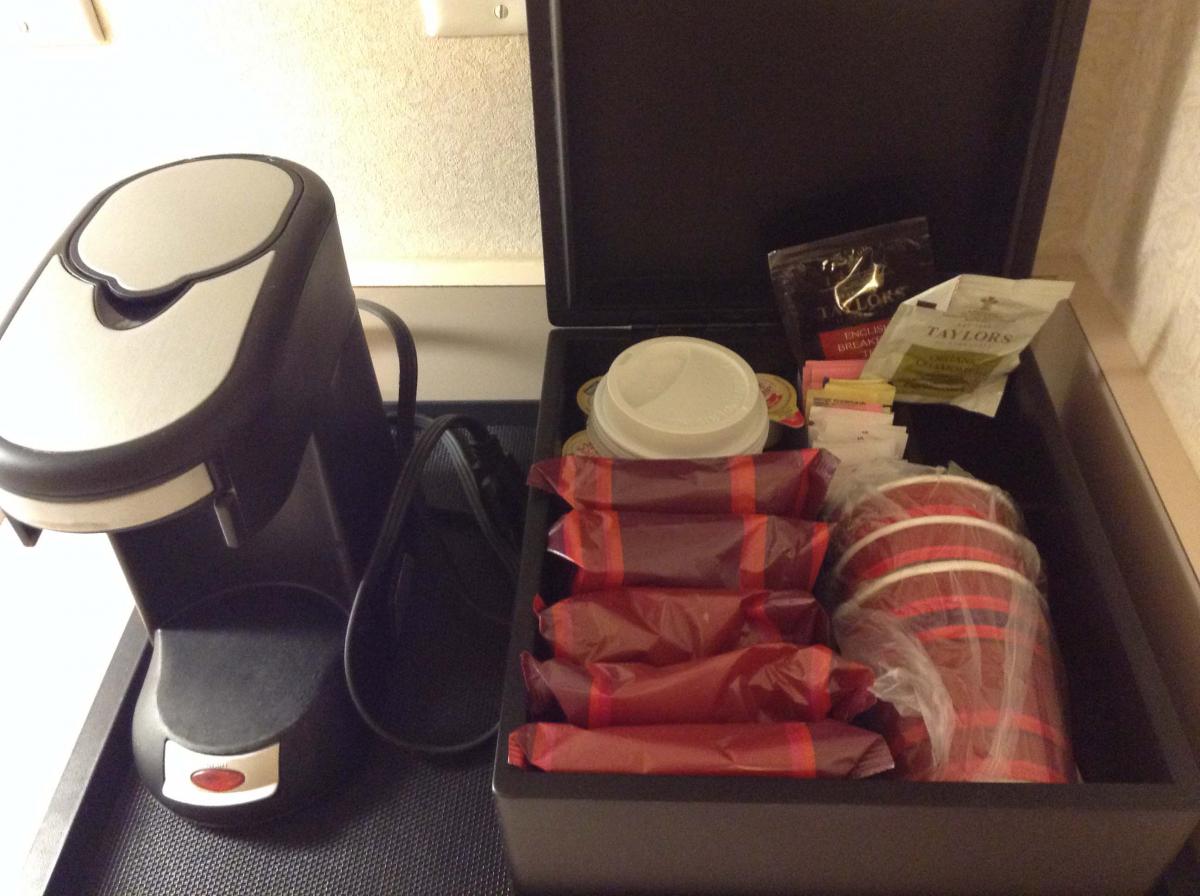 There is a nice beverage box with regular and decaf coffee pods, English breakfast and Camomile teabags, sugar and creamer packets and thick paper coffee cups with lids.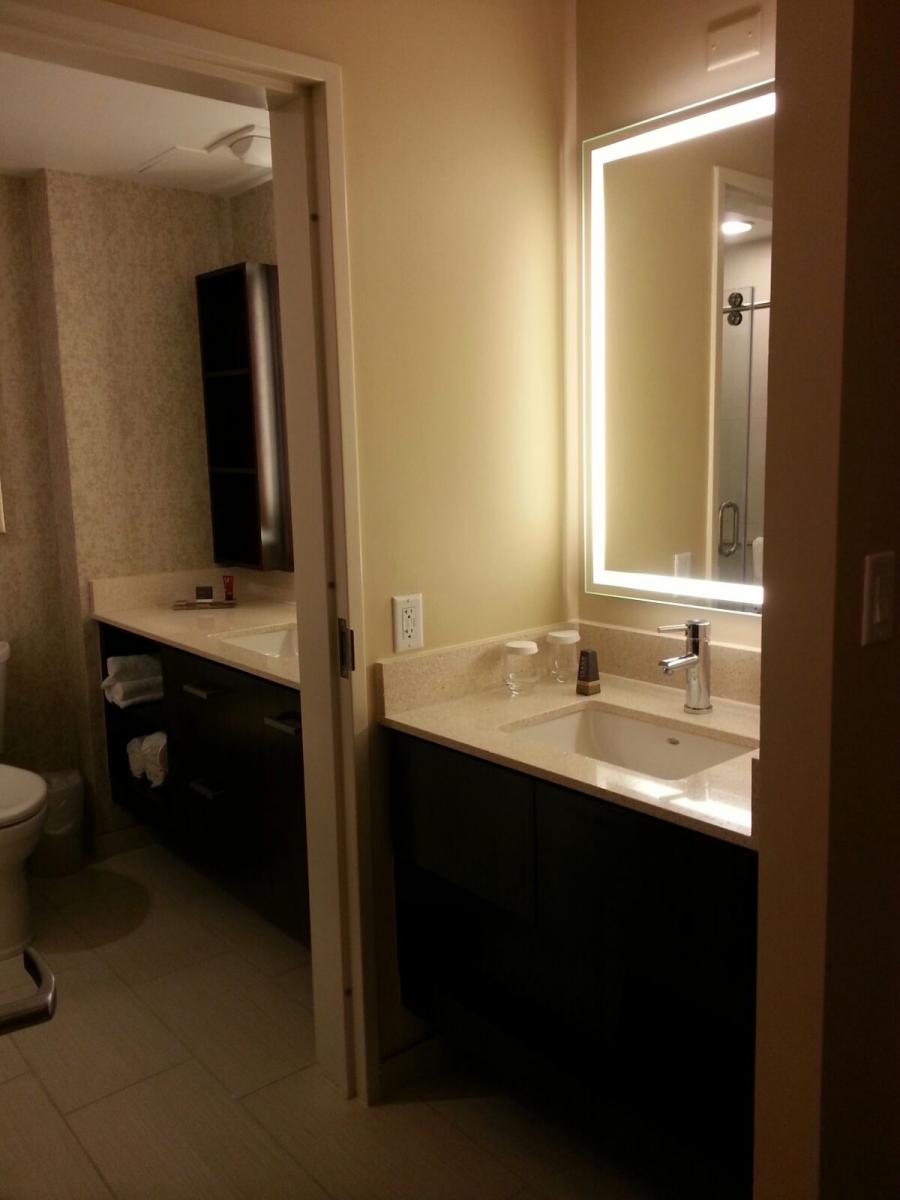 The bathroom has two sinks: one outside the bathroom and one inside the bathroom with the toilet and shower.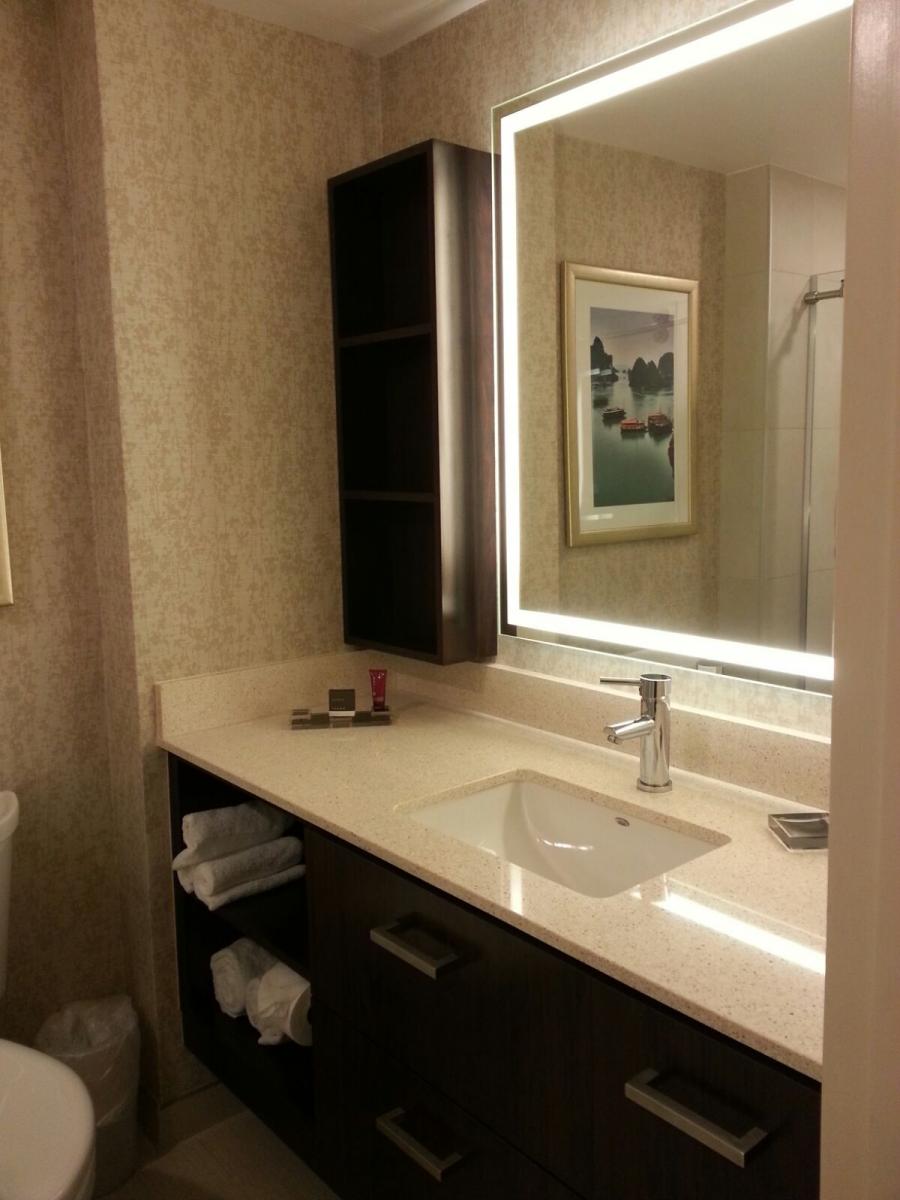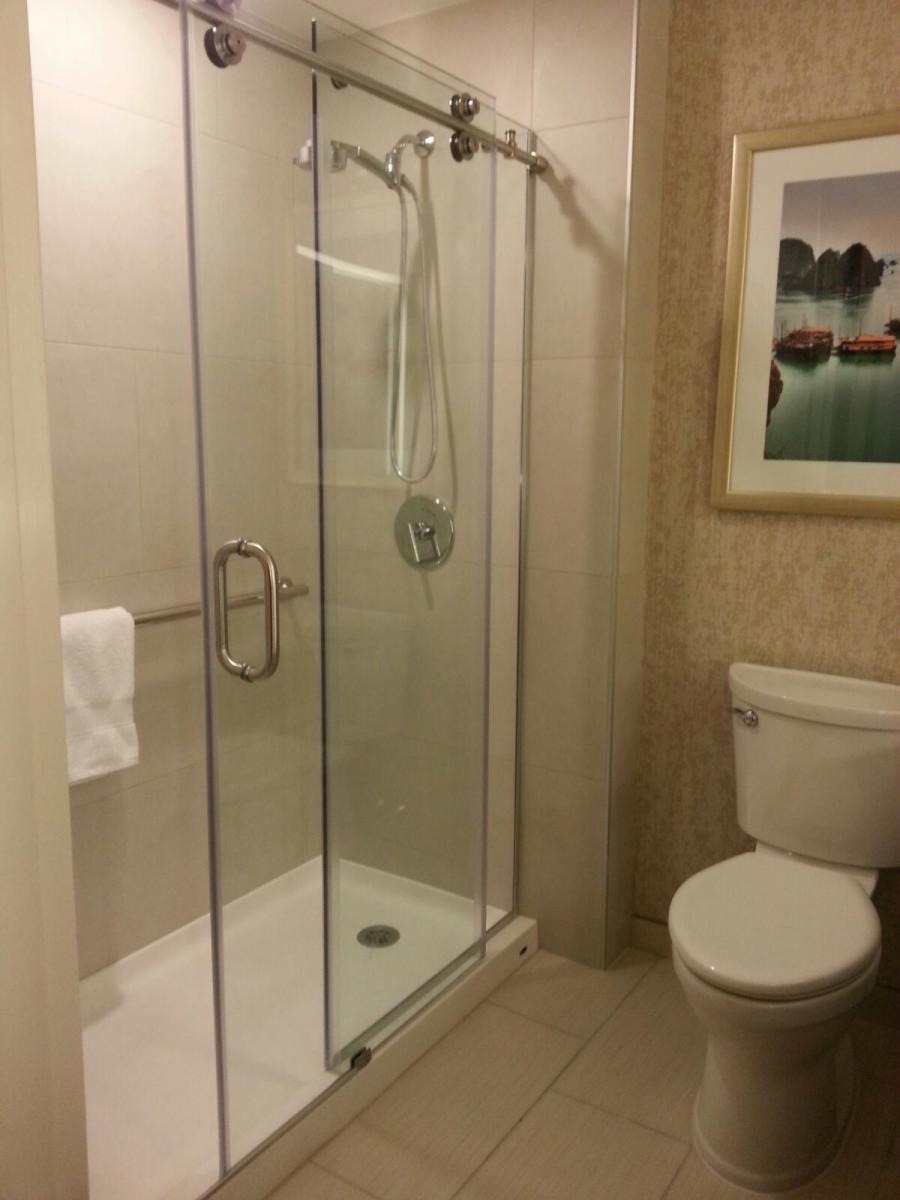 The shower has a detachable hand-held shower head and support handles.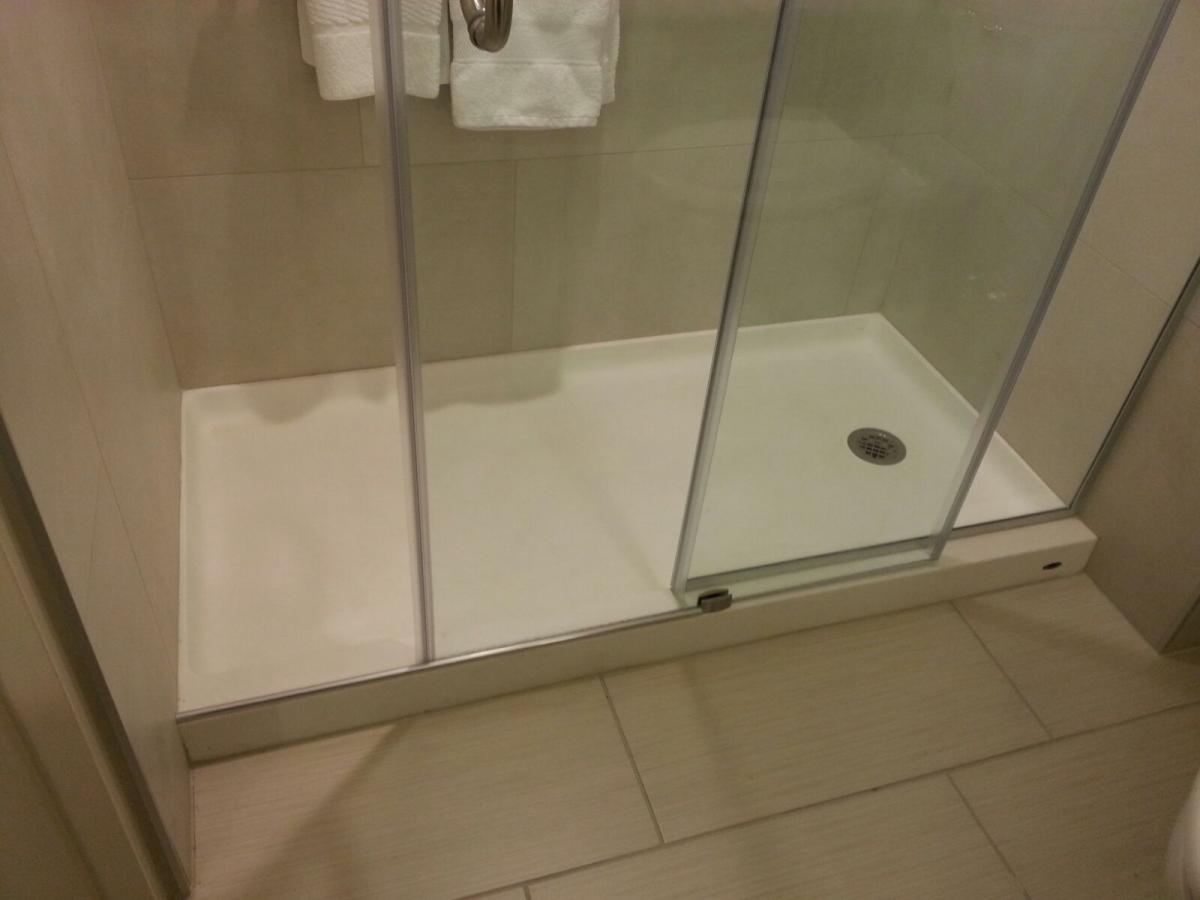 It is very easy to get in and out of the shower safely with the low ledge.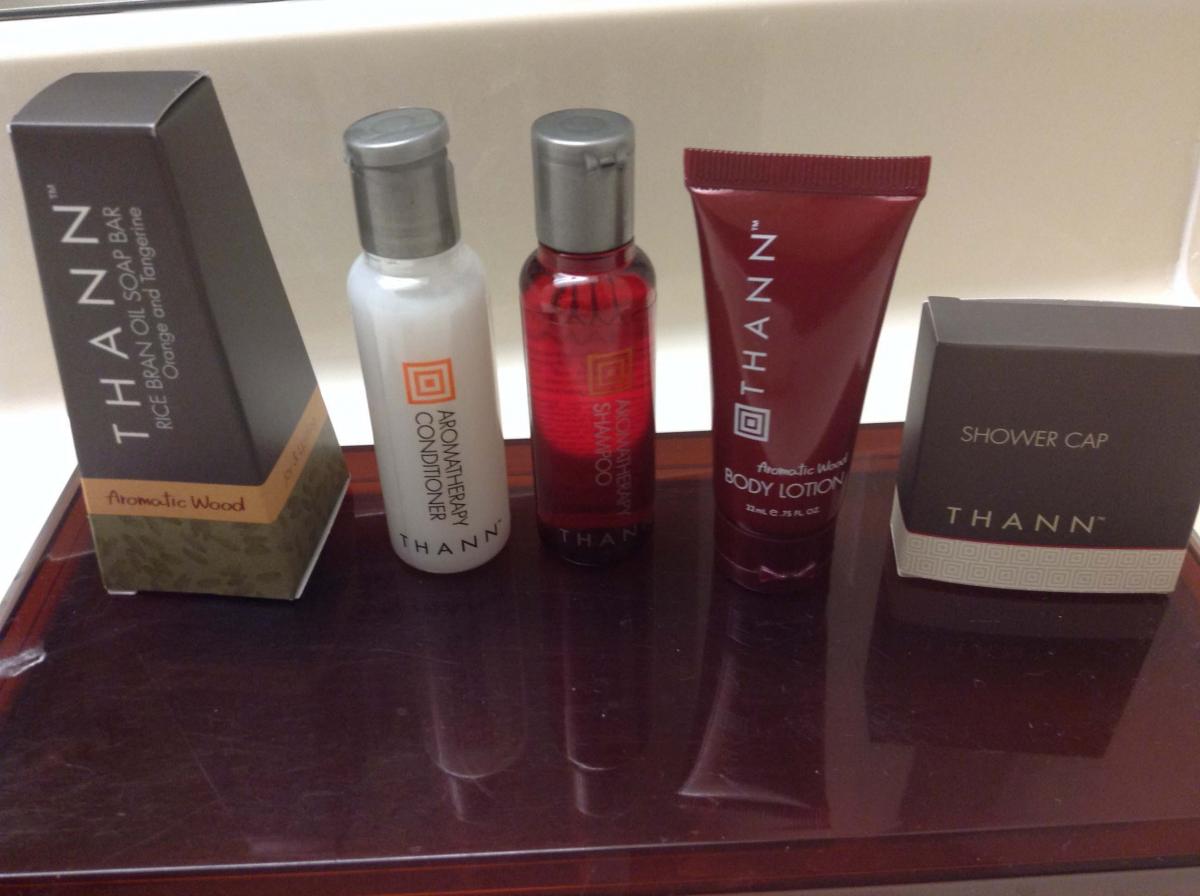 Bathroom amenities: 2 bar soaps, conditioner, shampoo, body lotion and shower cap.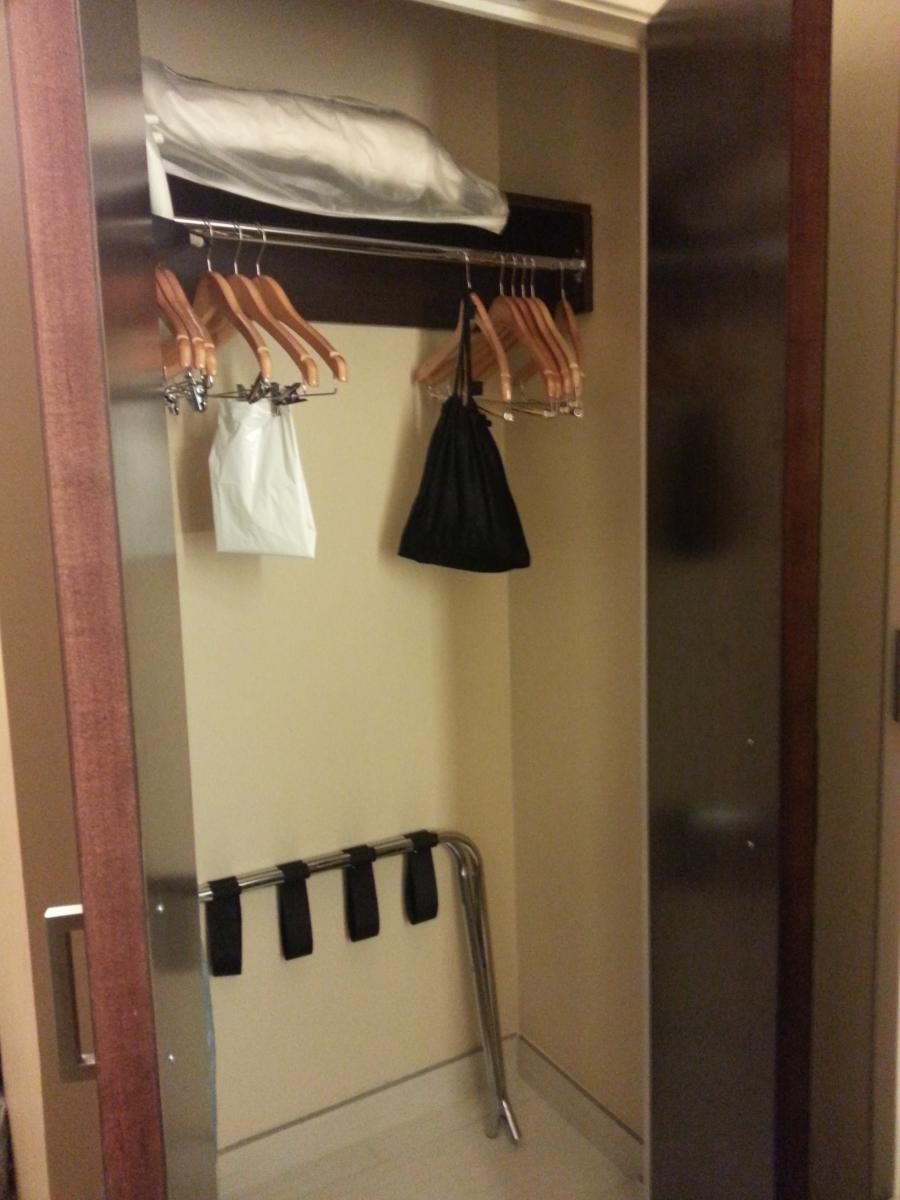 Closet:
luggage rack
clothes hangers
iron + ironing board
hair dryer (in bag hung in closet)
extra blanket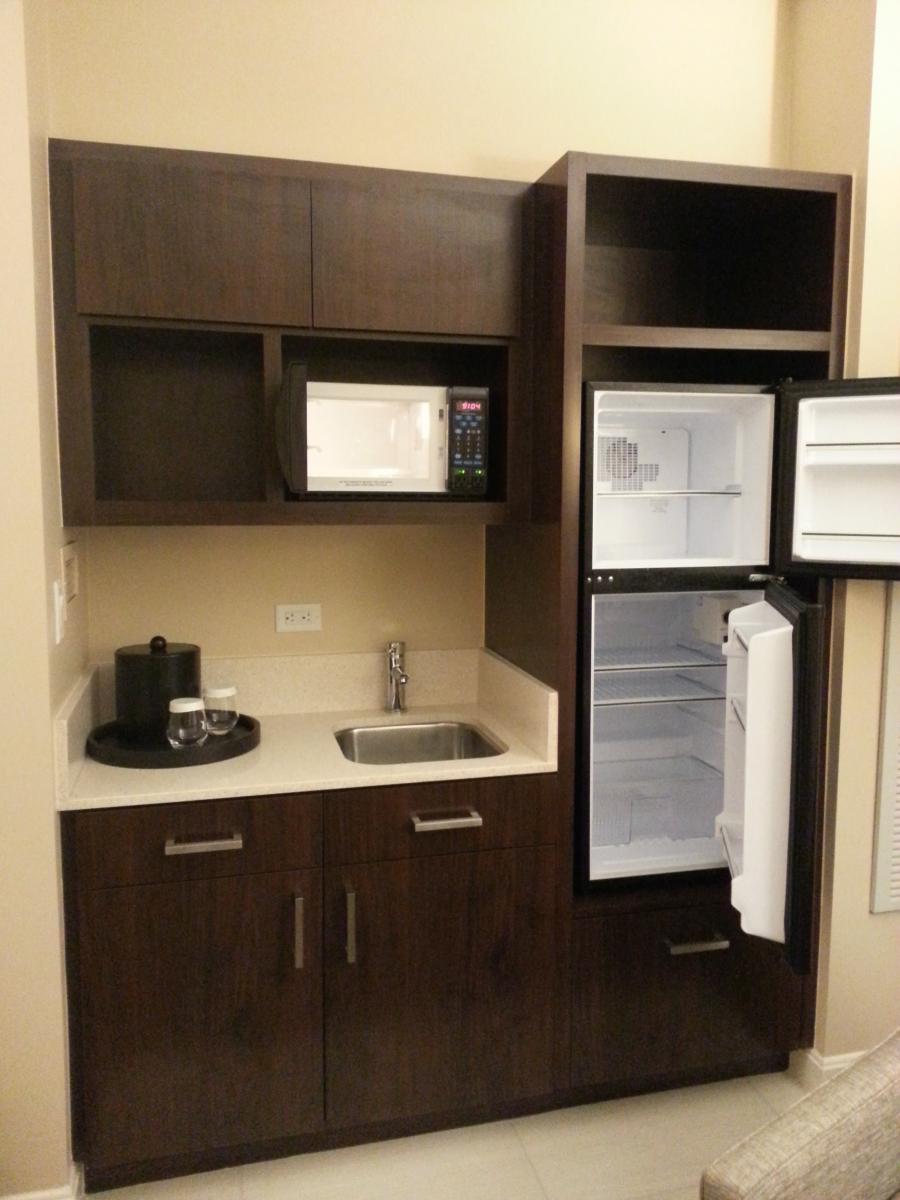 The kitchenette includes a refrigerator with freezer, bar sink, coffee/hot water maker and small microwave. Toaster is included.
The King Room without Kitchenette is almost the same as the
King Room with Kitchenette
, but it does not have the bar sink and the extra bathroom sink. There is still a microwave, refrigerator, coffee maker and toaster in this room.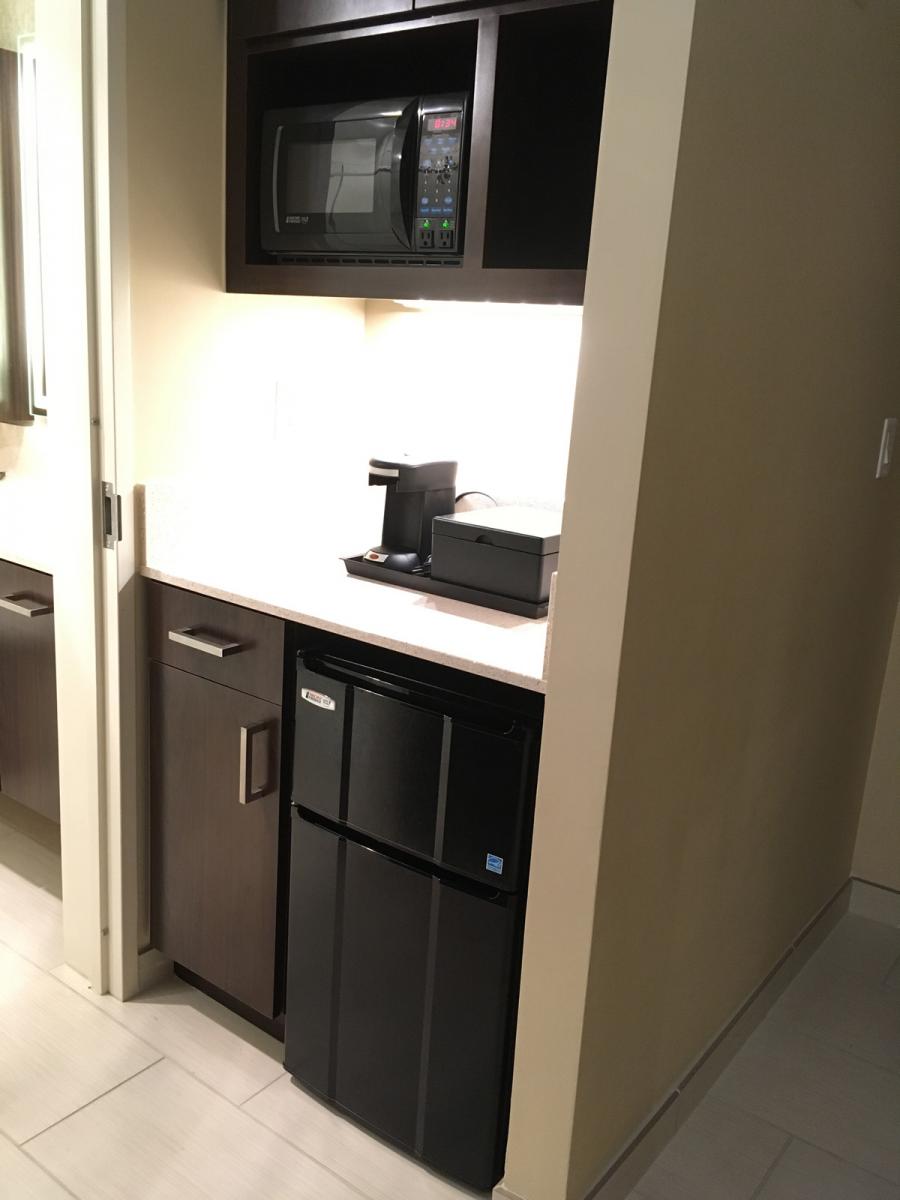 SERVICES AND AMENITIES
Patient Guest Services
Location: Rotary House 1st floor, next to Registration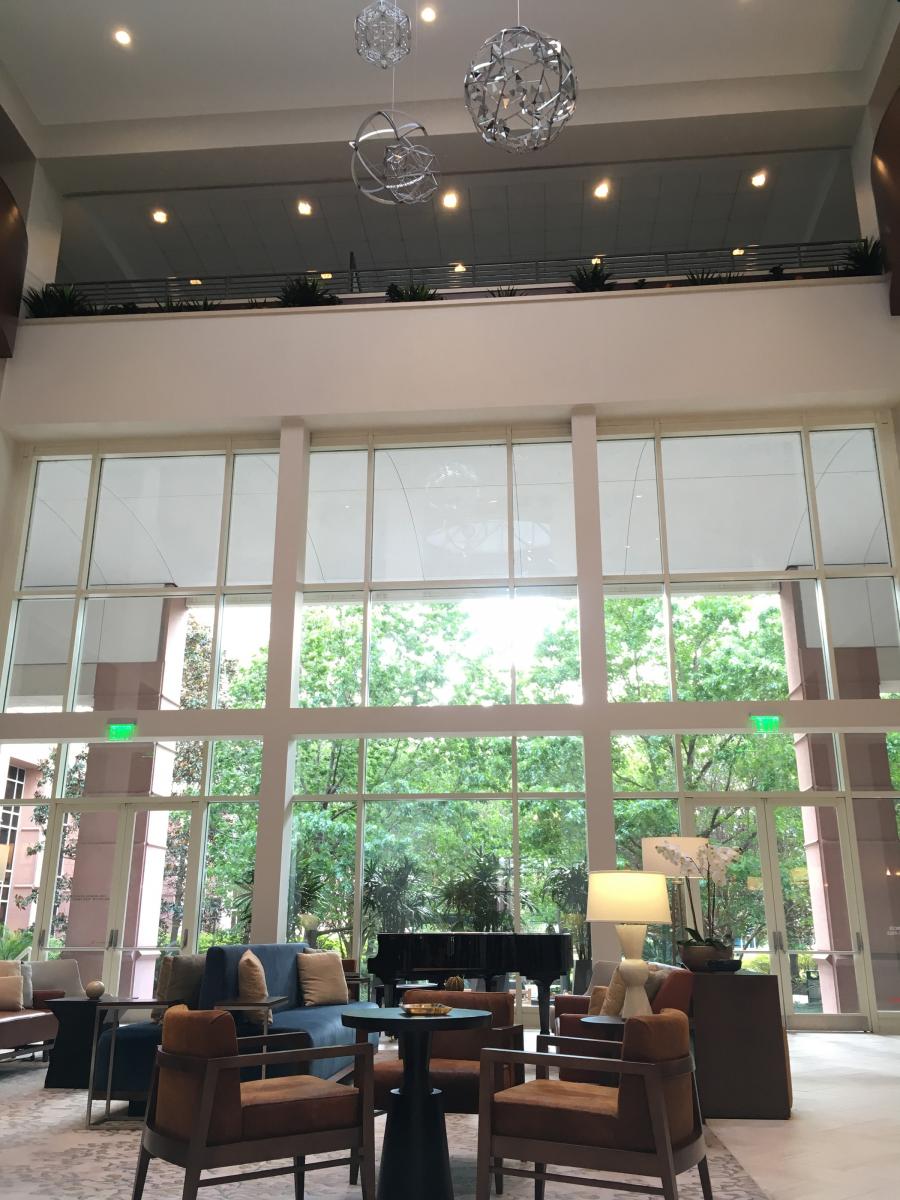 The Atrium is a relaxing area with sofas, tables and chairs with soaring high ceilings. There is free Rotary House wifi, as well as electrical outlets here.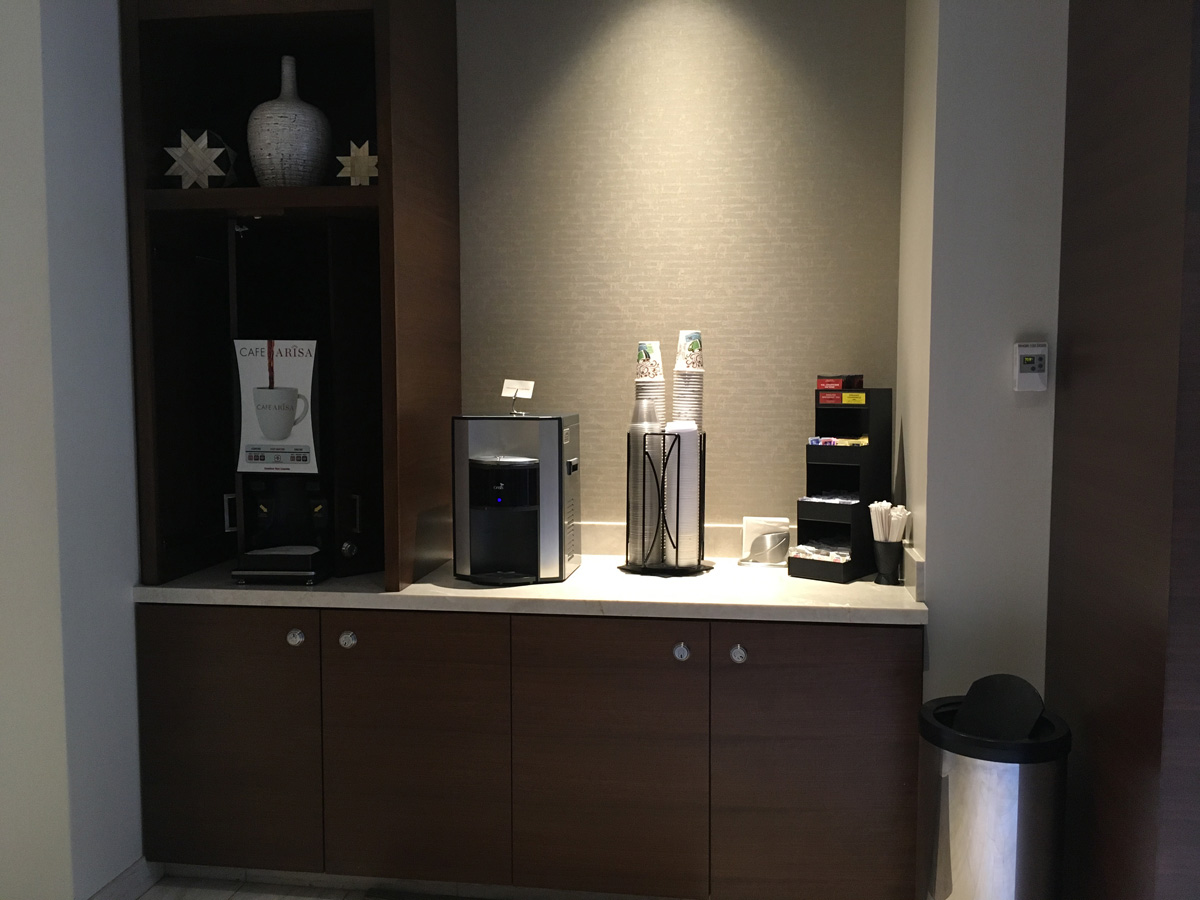 For refreshment, there is a coffee (regular and decaf) dispenser and hot water for tea (English breakfast and chamomile) and cold water, just adjacent to the Atrium.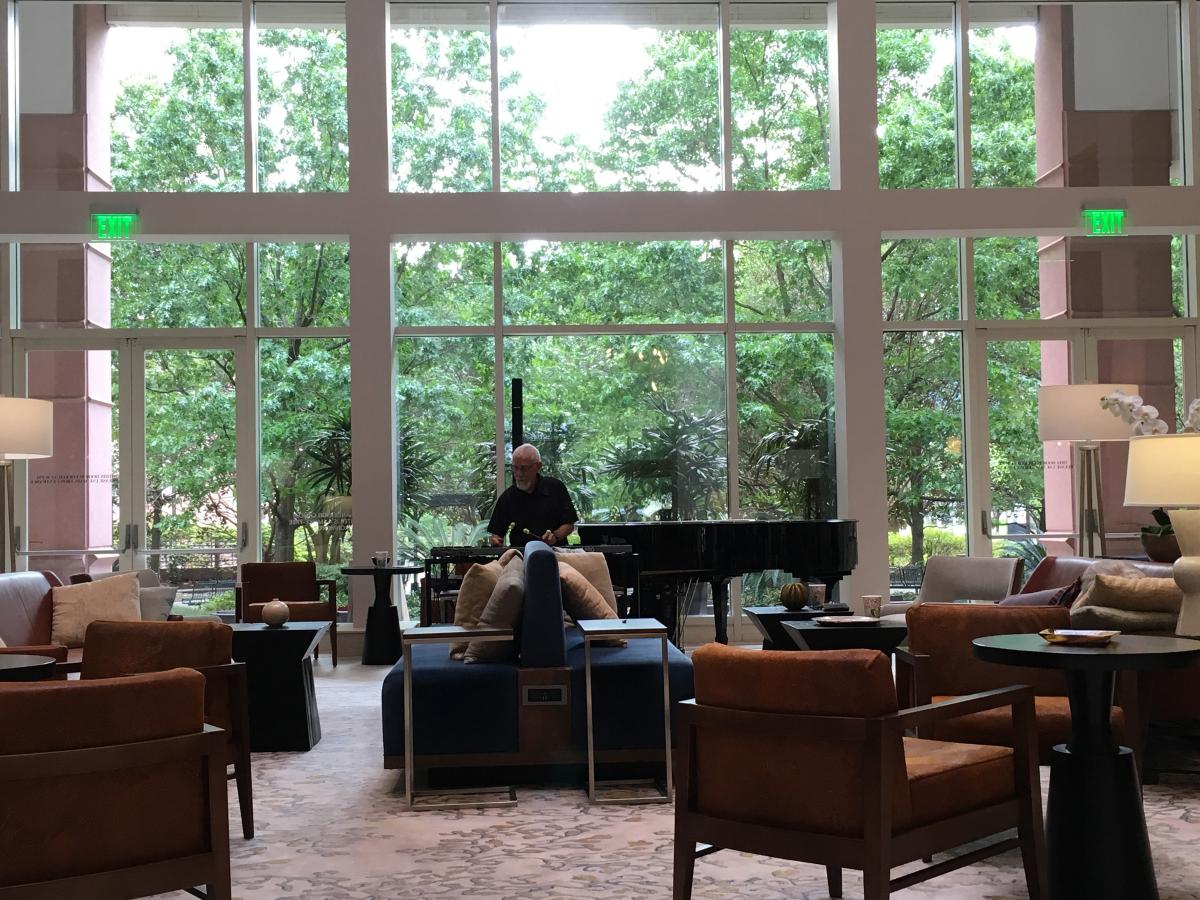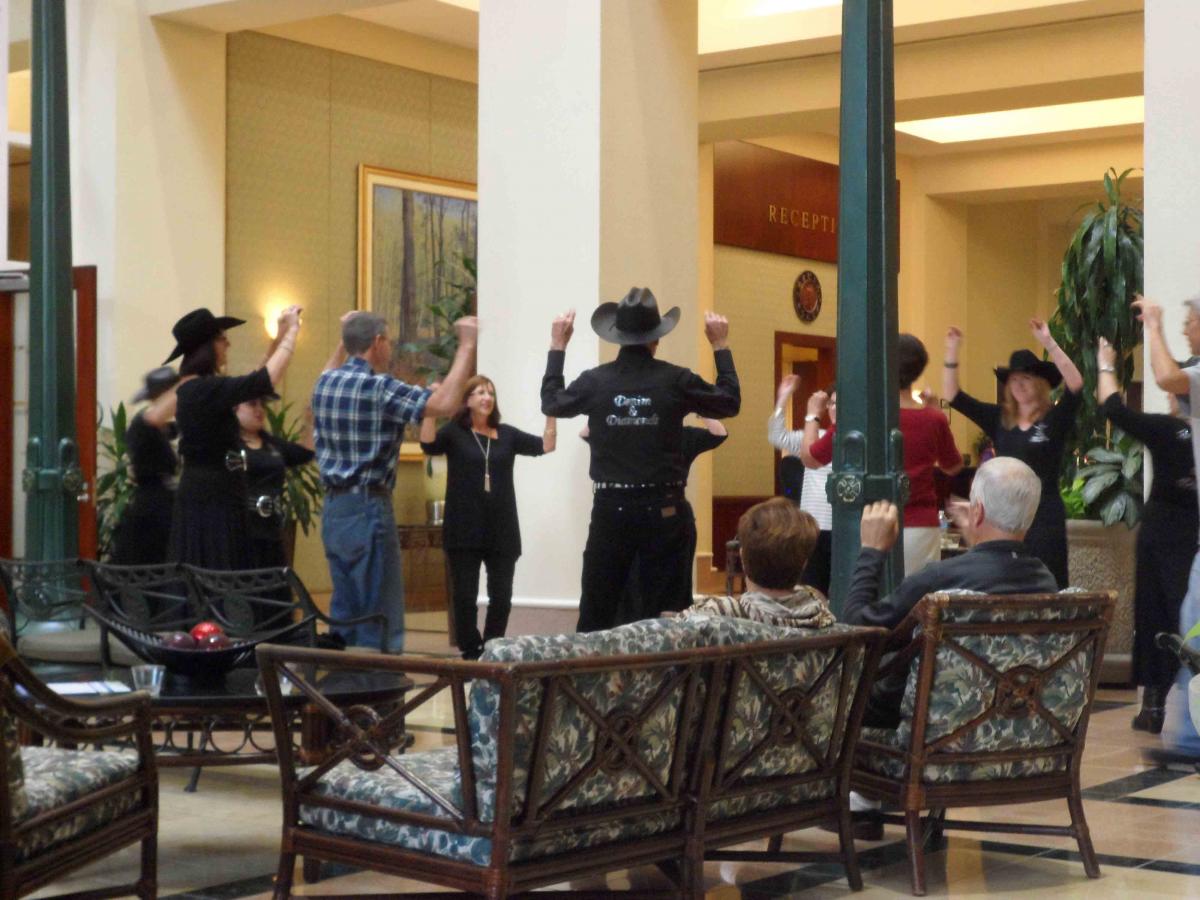 Many events occur at the Atrium, such as dance or music concerts.
Location: Rotary House 1st floor, facing the Atrium.
Computers with internet
Printer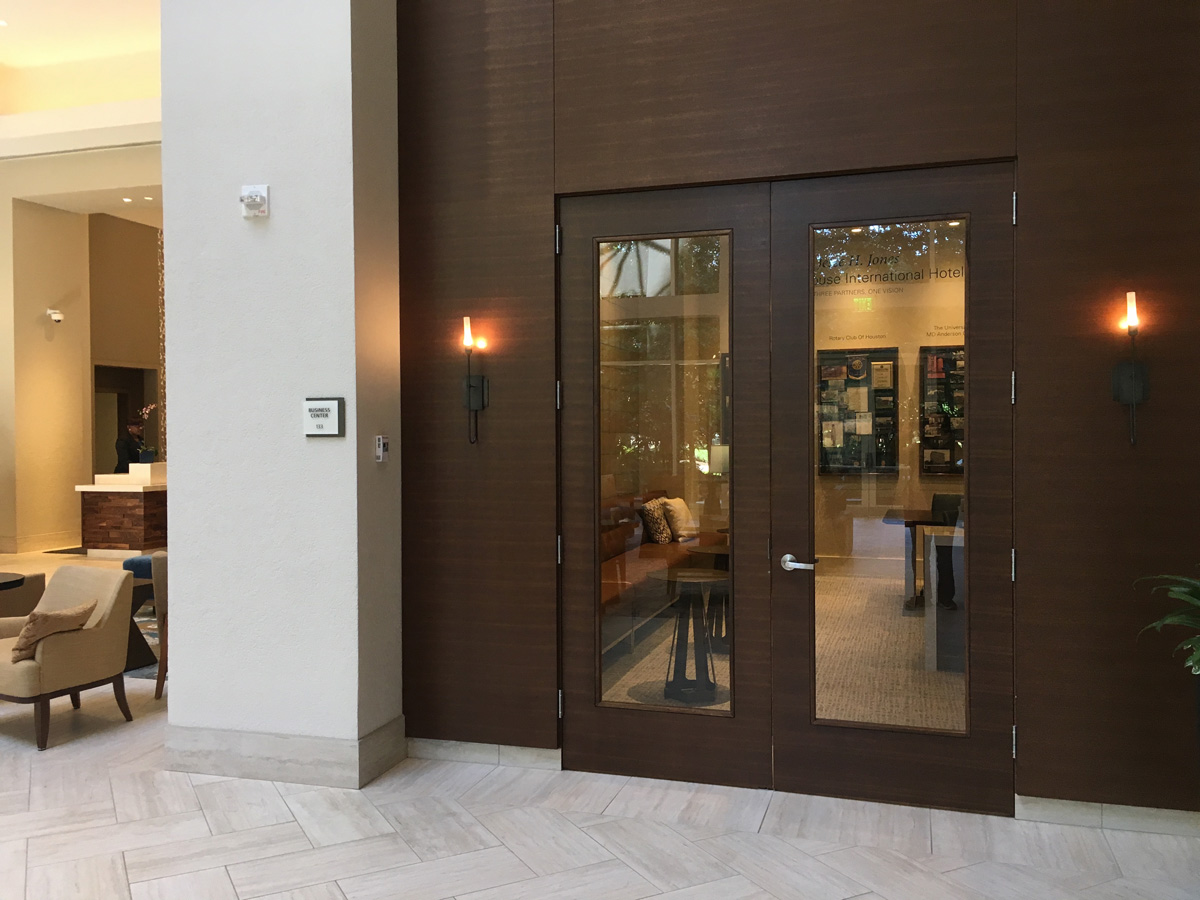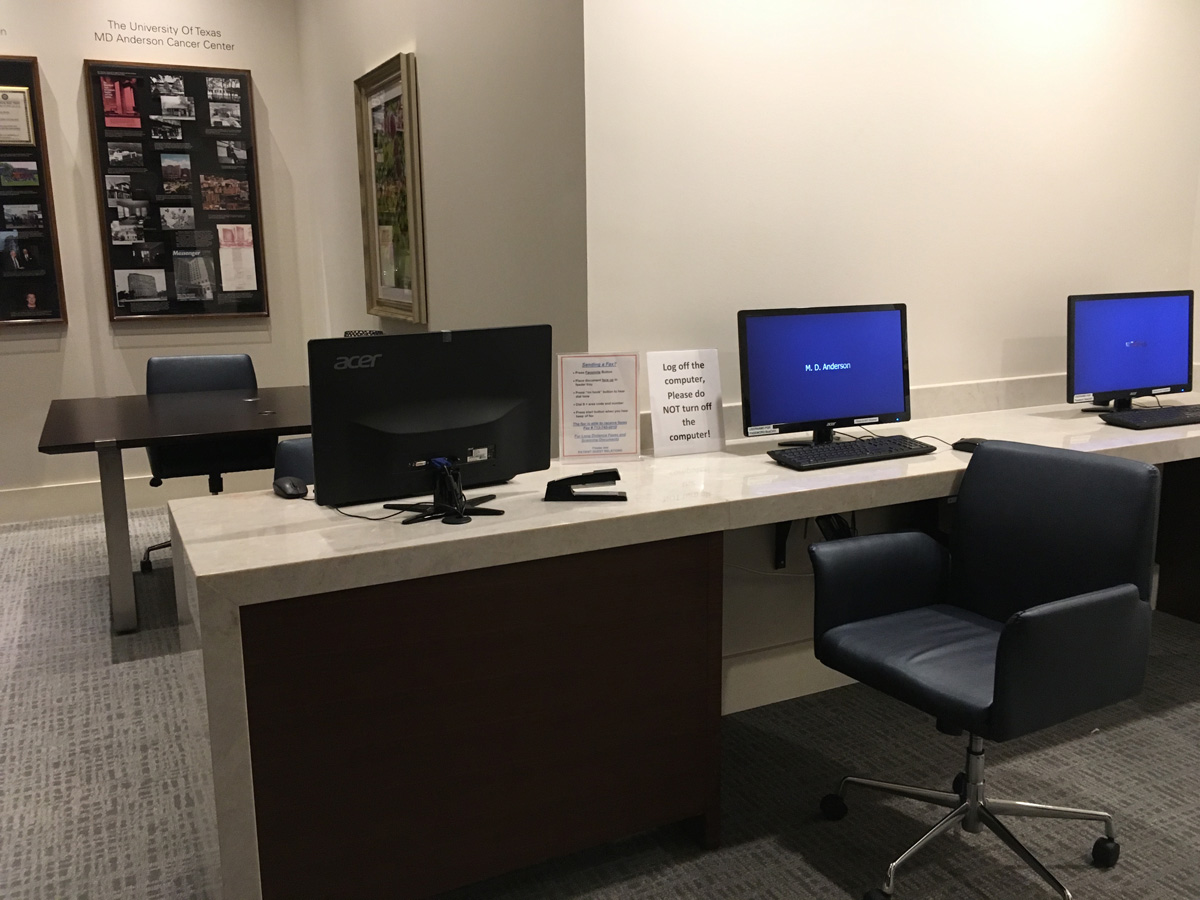 Exercise
Location: Rotary House 1st floor, directly across from Registration. Hotel card key access required. 24 hour access.
Pool: There is a beautiful heated indoor pool, even with machines that can carry someone in a sitting position into the pool. At the corner there is a jacuzzi. Lounge chairs surround the pool. Pool towels are provided there.
Gym: Within the pool area, there is an exercise room with equipment. Water, fruit and towels are provided.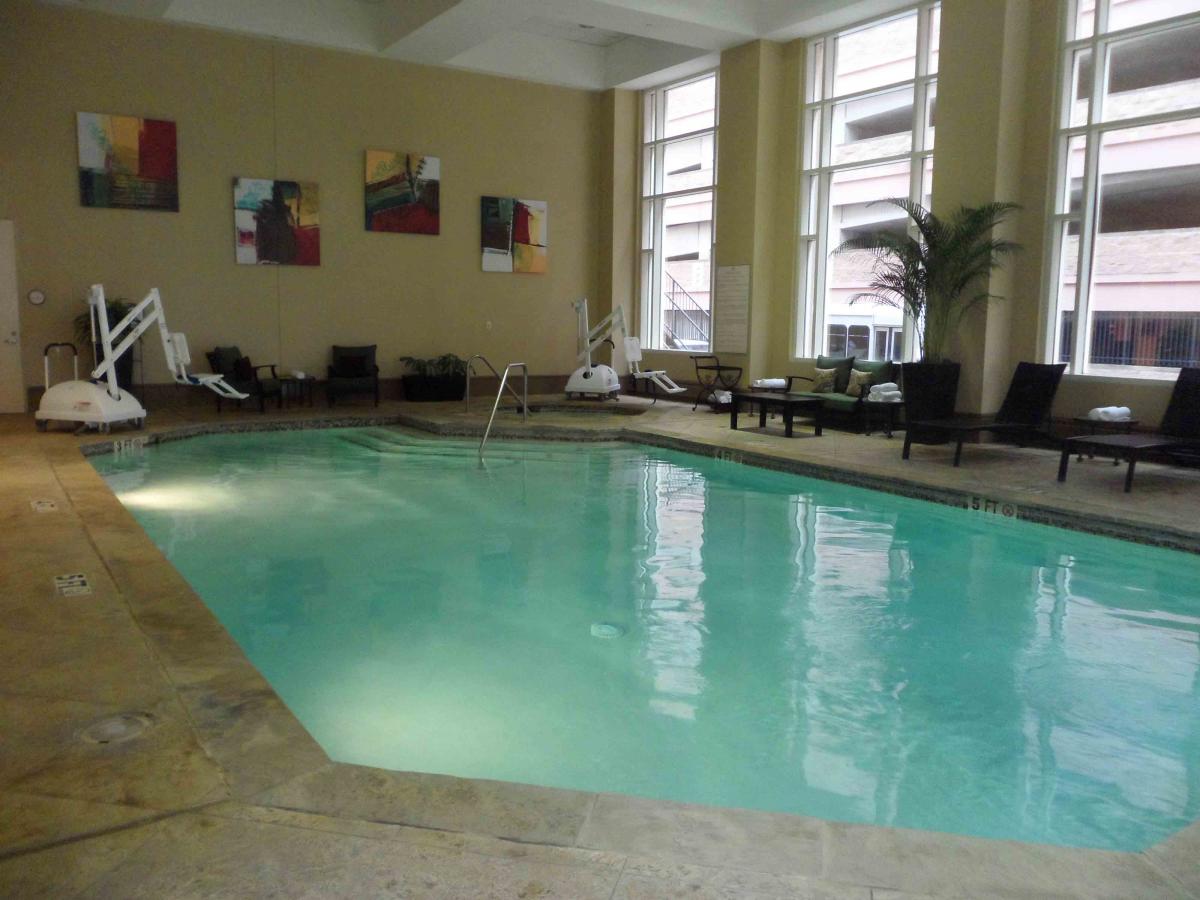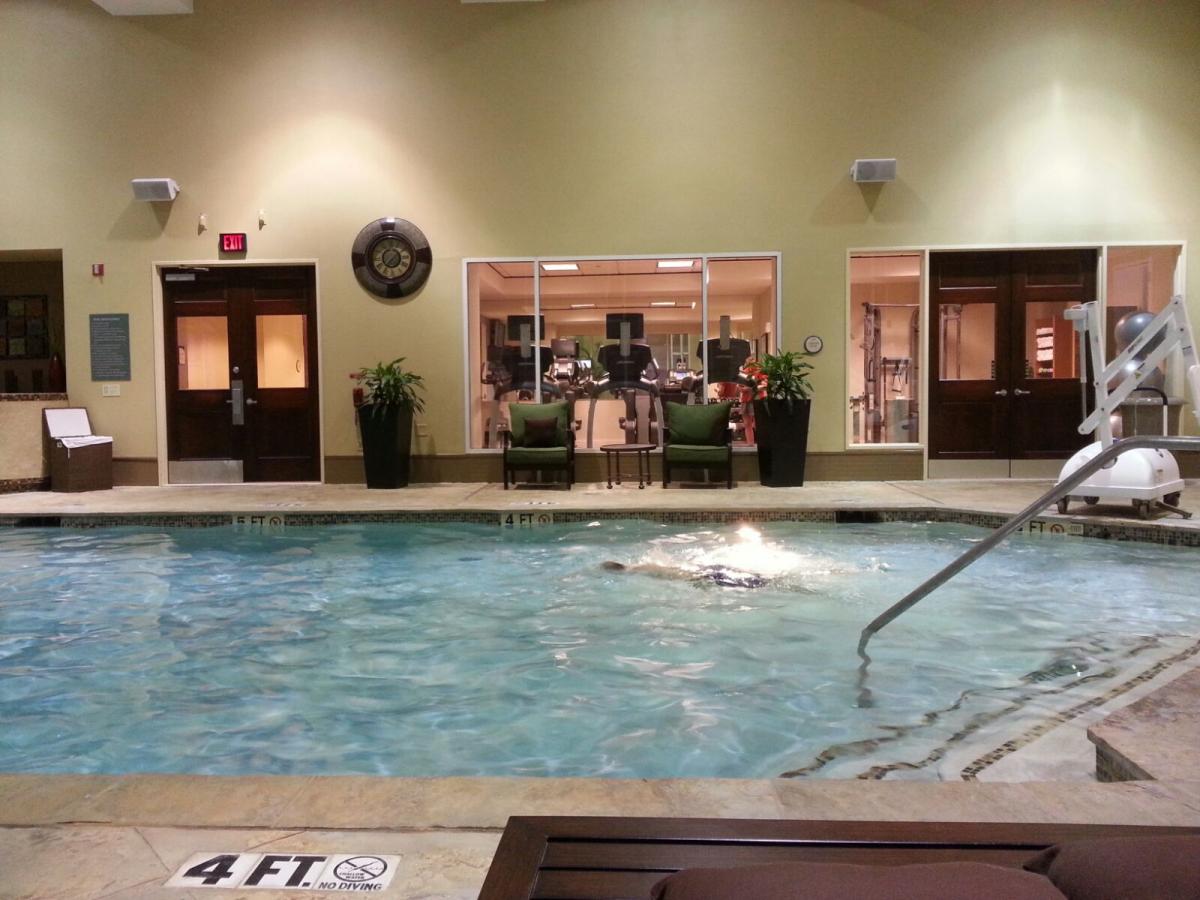 Food and Restaurants
Room service*
Room Service Menu: Breakfast, Appetizers, Salads, Sandwiches, Entrees, Favorites, Sides, Pizza, Desserts, Beverages, Wine.
Click on photo for larger image.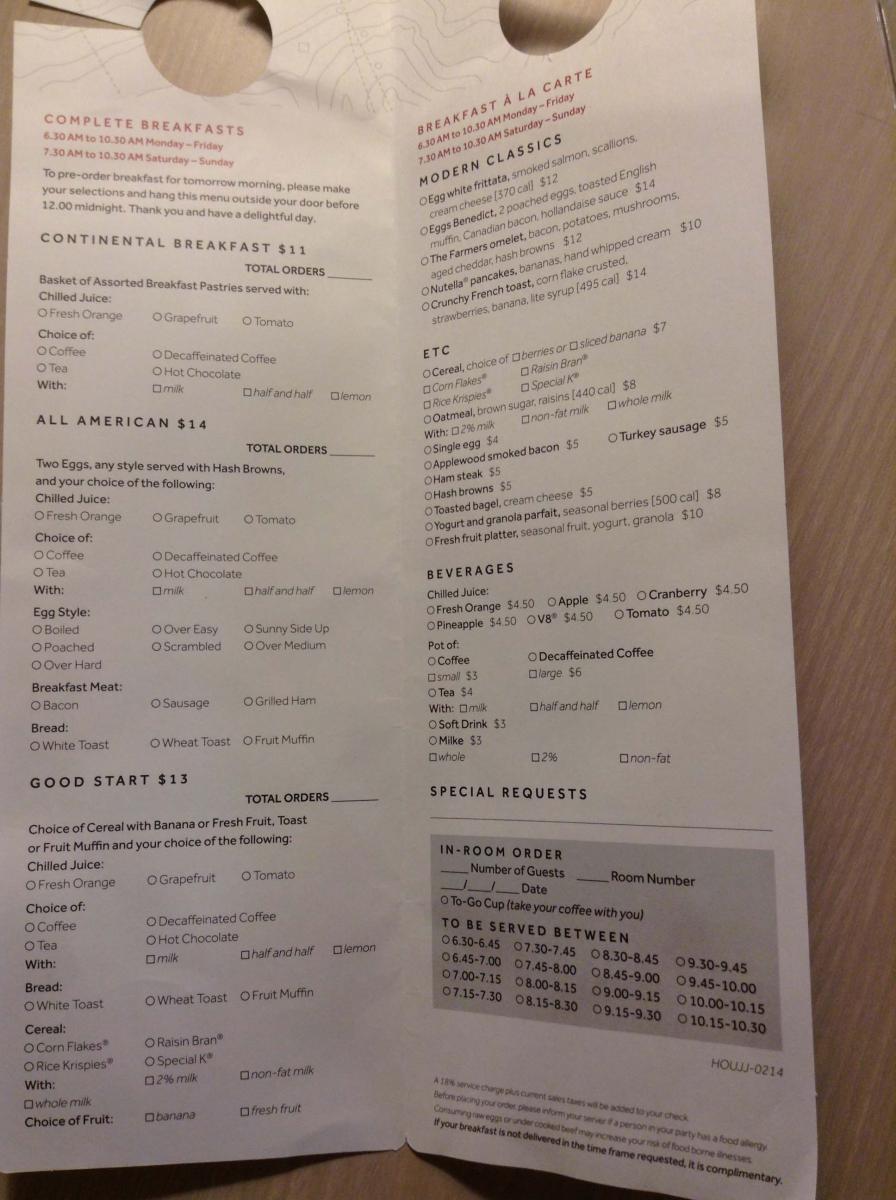 Restaurants/Food located next to Rotary House, on 2nd Floor:
Click to enlarge.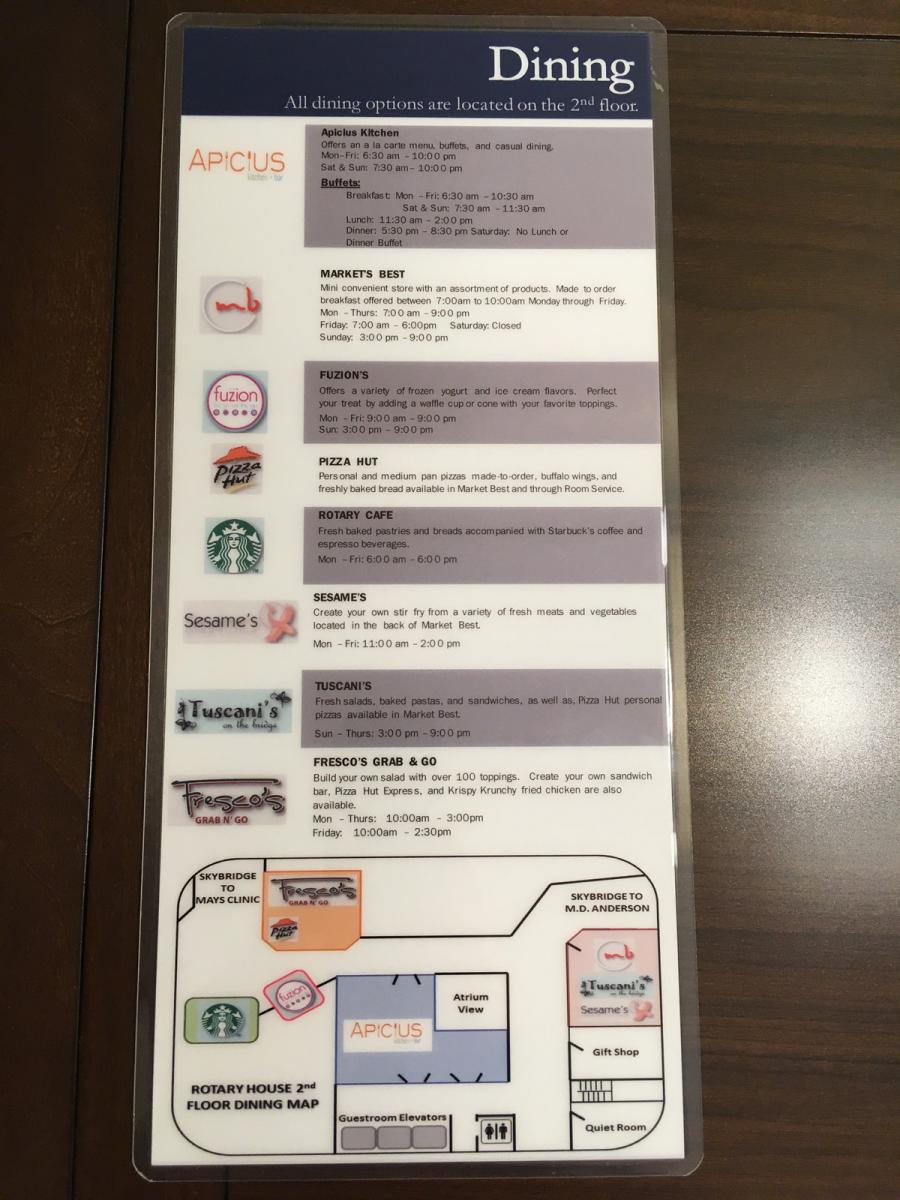 Apicus Kitchen* (a la carte and buffet)
Breakfast Mon-Fri 6:30am-10:30am, Sat + Sun 7:30am-11:30am
Lunch 11:30am-2:00pm (no buffet on Saturday)
Dinner 5:30pm-8:30pm (no buffet on Saturday)
Dinner buffet - has carving station, salad + soup bar, dessert, hot entrees.
Market's Best (mini convienent store with an assortment of products. Made to order breakfast offered between 7am-10am Monday-Friday.
Mon - Thurs 7am - 9pm
Friday 7am - 6pm
Saturday Closed.
Sunday 3pm - 9pm
Fuzion's* (self-serve and self-pay frozen yogurt with toppings)
Mon-Fri 9:00am-9:00pm
Sat + Sun 3:00pm-9:00pm
Pizza Hut (pan pizzas made-to-order, buffalo wings, and freshly baked bread available in Market Best and through Room Service)
Rotary Cafe (Starbucks coffee and pastries)
Mon-Fri 6am-6pm
Sesame's (create your own stir fry, in the back of Market Best)
Mon-Fri 11am - 2pm
Tuscani's (salads, baked pastas, sandwiches, Pizza Hut personal pizzas and pastas)
Sun-Thurs 3pm-9pm
Fresco's Grab & Go (salad bar, sandwich bar, Pizza Hut Express, Krispy Krunchy fried chicken)
Mon-Thurs 10am-3pm
Fri 10am-2:30pm
Cafeteria/Food located in Main Building, Elevator D, 1st Floor, about 5 minutes walk from Rotary House:
Cafe Anderson* cafeteria with hot entrees, salad bar, grill, sandwiches, Chick fil'A note: Chick fil'A closed on Sunday)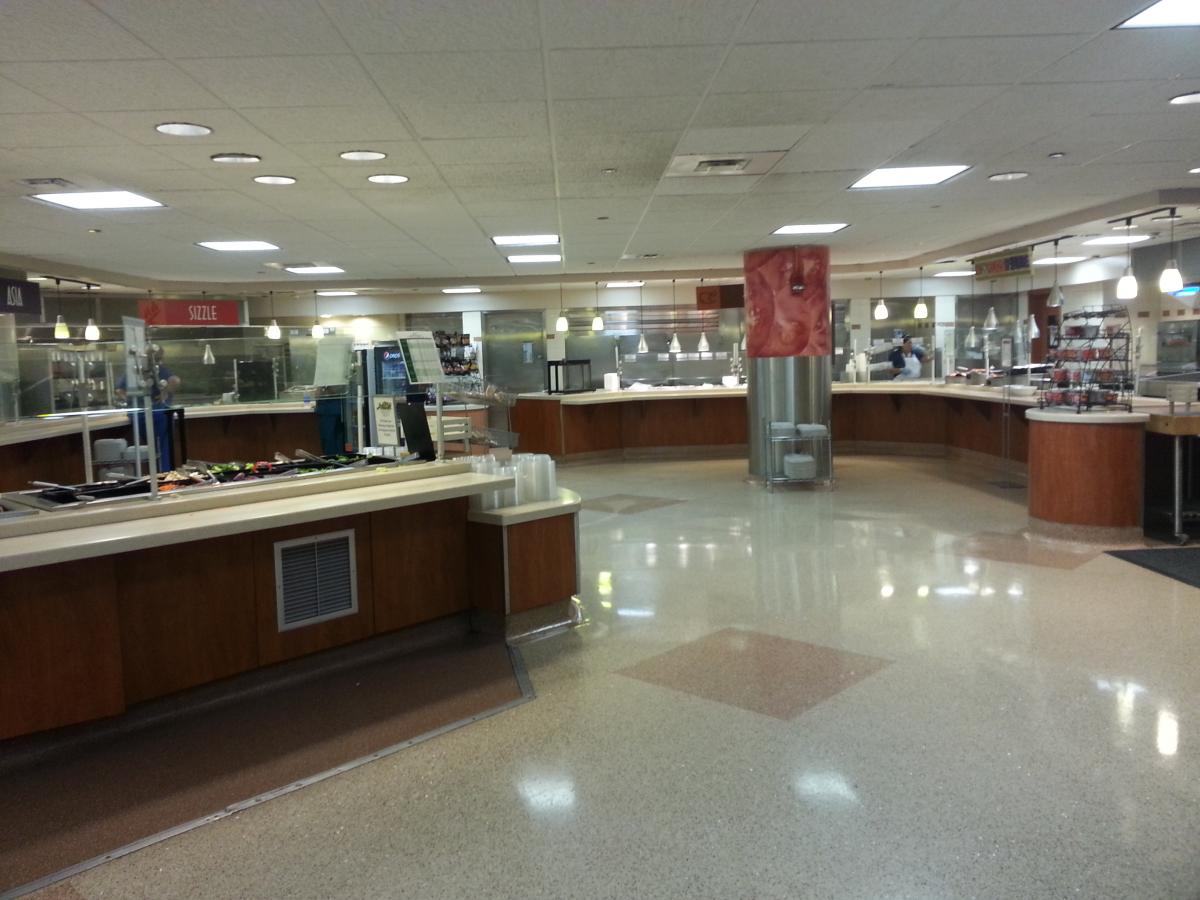 Cafe at the Park* Open 24 hours, 7 days a week. Starbucks drinks, Smoothie King smoothies, pastries, sandwiches, salads.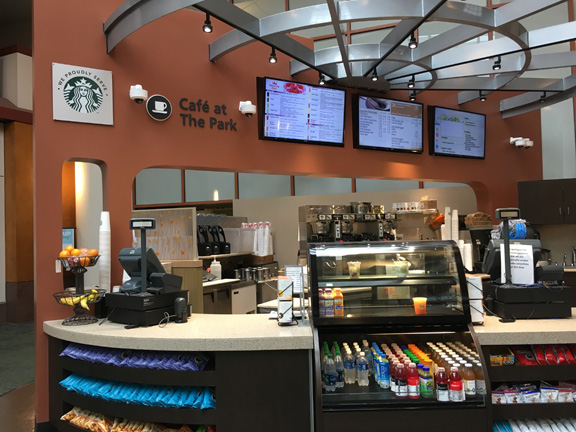 [*These places are open on Saturday, even though many places close on Saturday.]
Gift Shop
Location: Rotary House 2nd floor, around the corner from the Oaks Restaurant.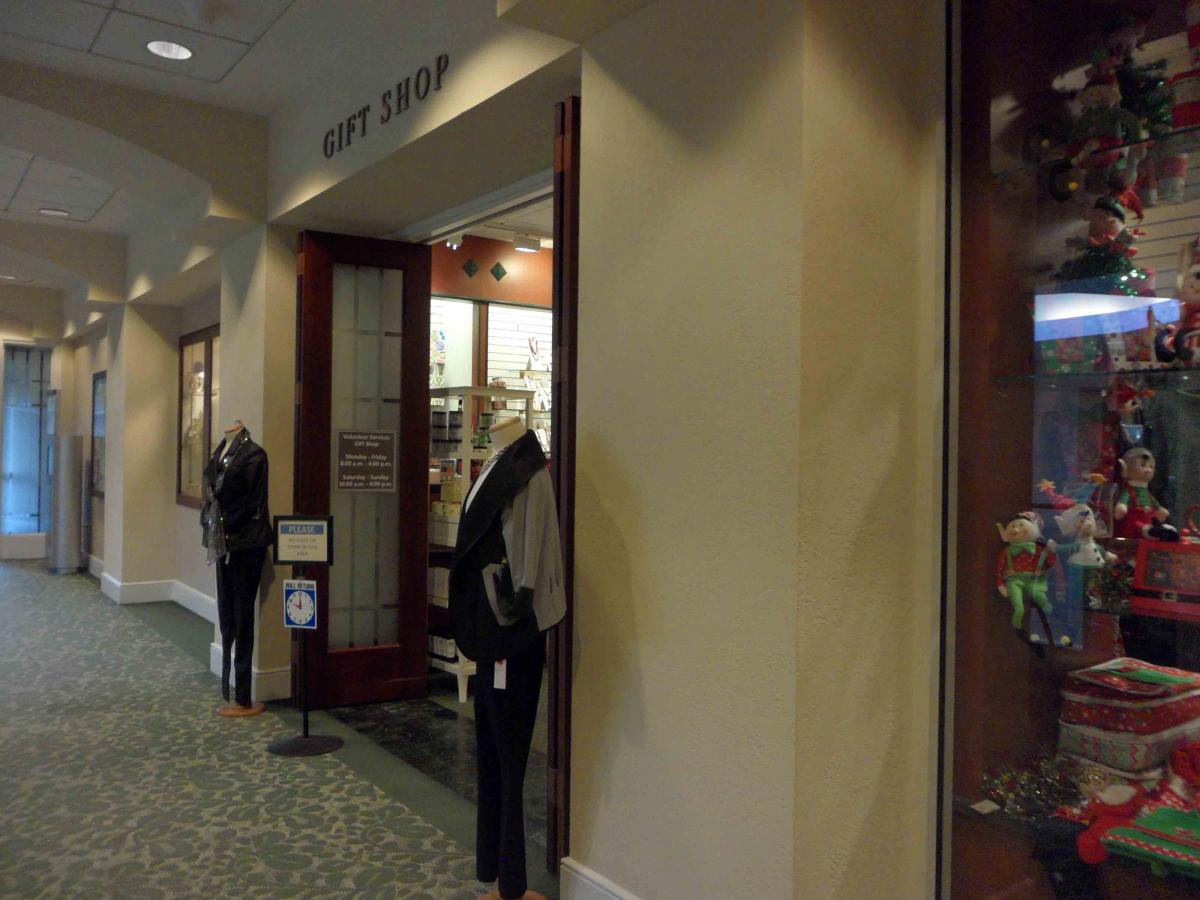 It sells clothing, accessories, gifts, cards, over the counter medications, snacks.
Mon-Fri 8am-6pm
Sat-Sun 10am-6pm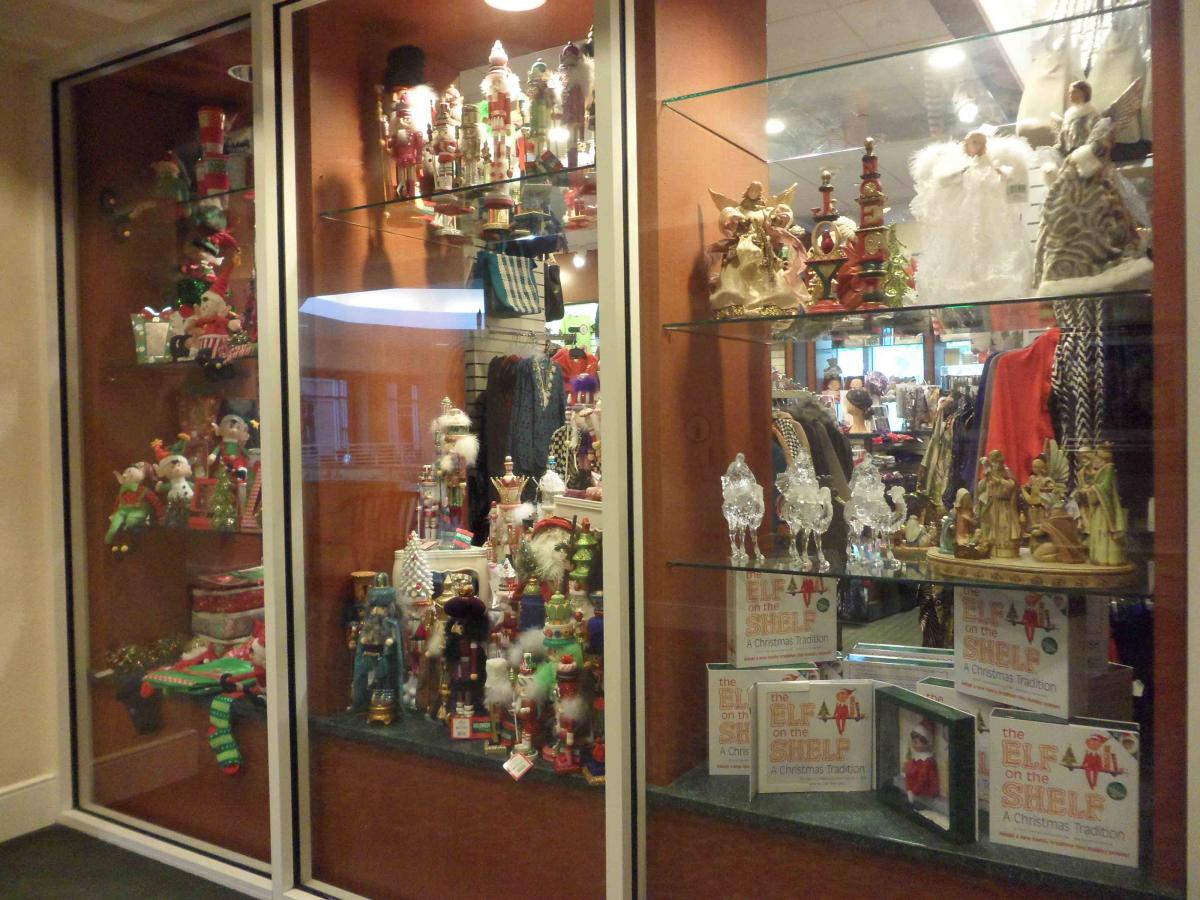 Patient Guest Services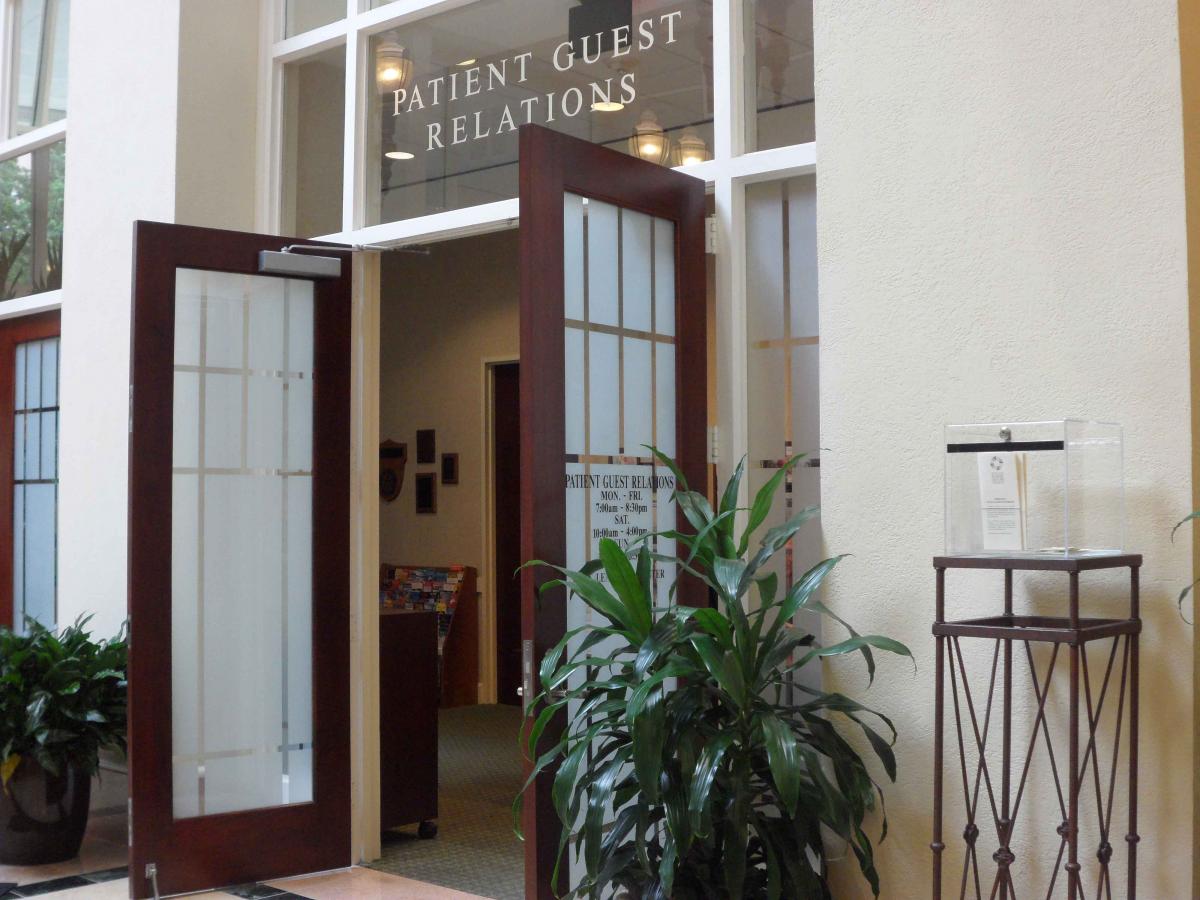 Patient Guest Relations is next to the registration desk.
Go here after checking in. Their services include:
- providing a copy of your MD Anderson appointment schedule
- arranging blood draws to be done at Rotary House (from Sunday to Thursday, 3:30PM-8PM), which is a nice service so you don't have to walk to the clinics
- health library with information for patients
- free DVD and DVD player rental
They have a HUGE selection of DVDs, including recent movies. The DVDs can be rented for 2 days at a time. After hours, there is a drop box outside of the Patient Guest Relations to return the DVDs.
- activities for hotel guests: performances in the Atrium, movies in the Mayfair Room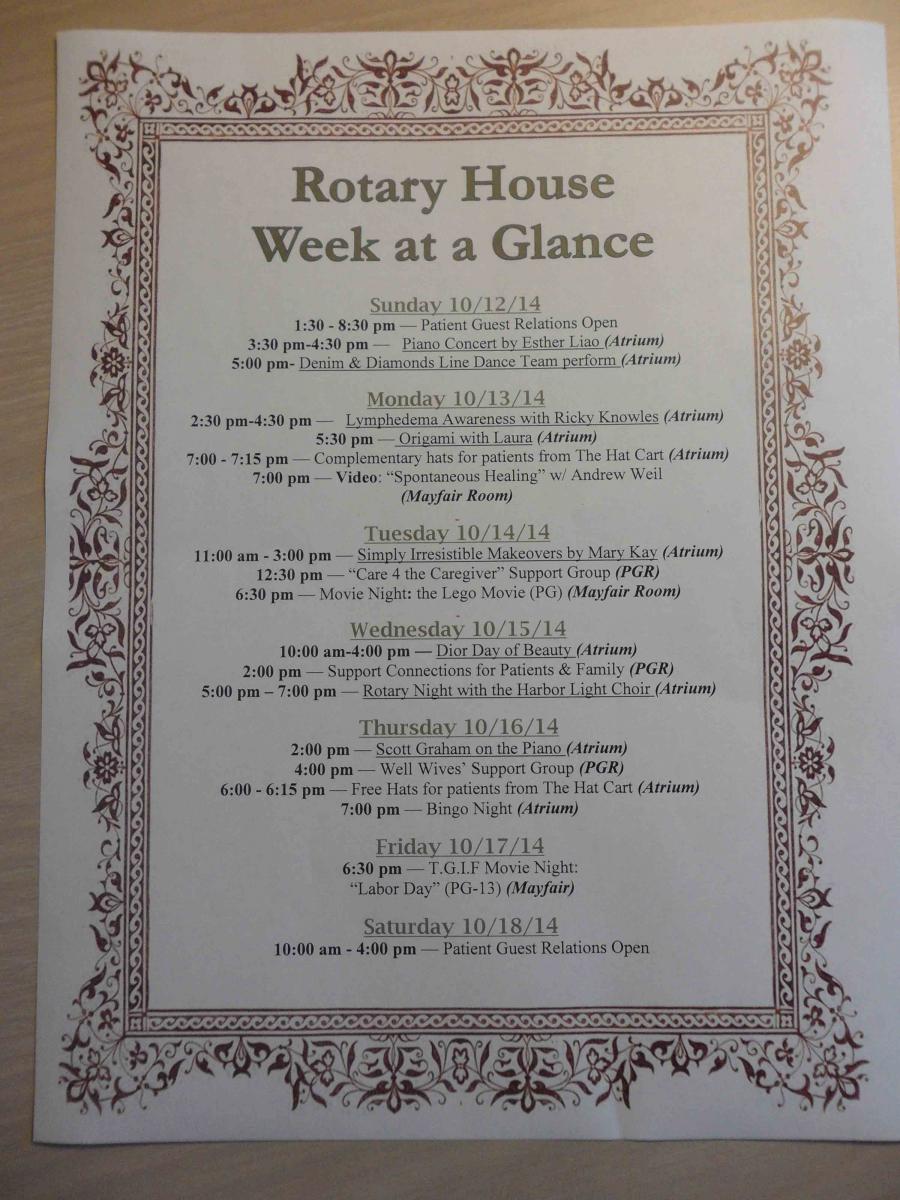 Sample of Activity Schedule for the week. It changes every Saturday.
Monday-Friday 7am-8:30pm
Saturday 10am-4:00pm
Sunday 1:30pm - 8:30pm
Laundry
Location: Rotary House 1st floor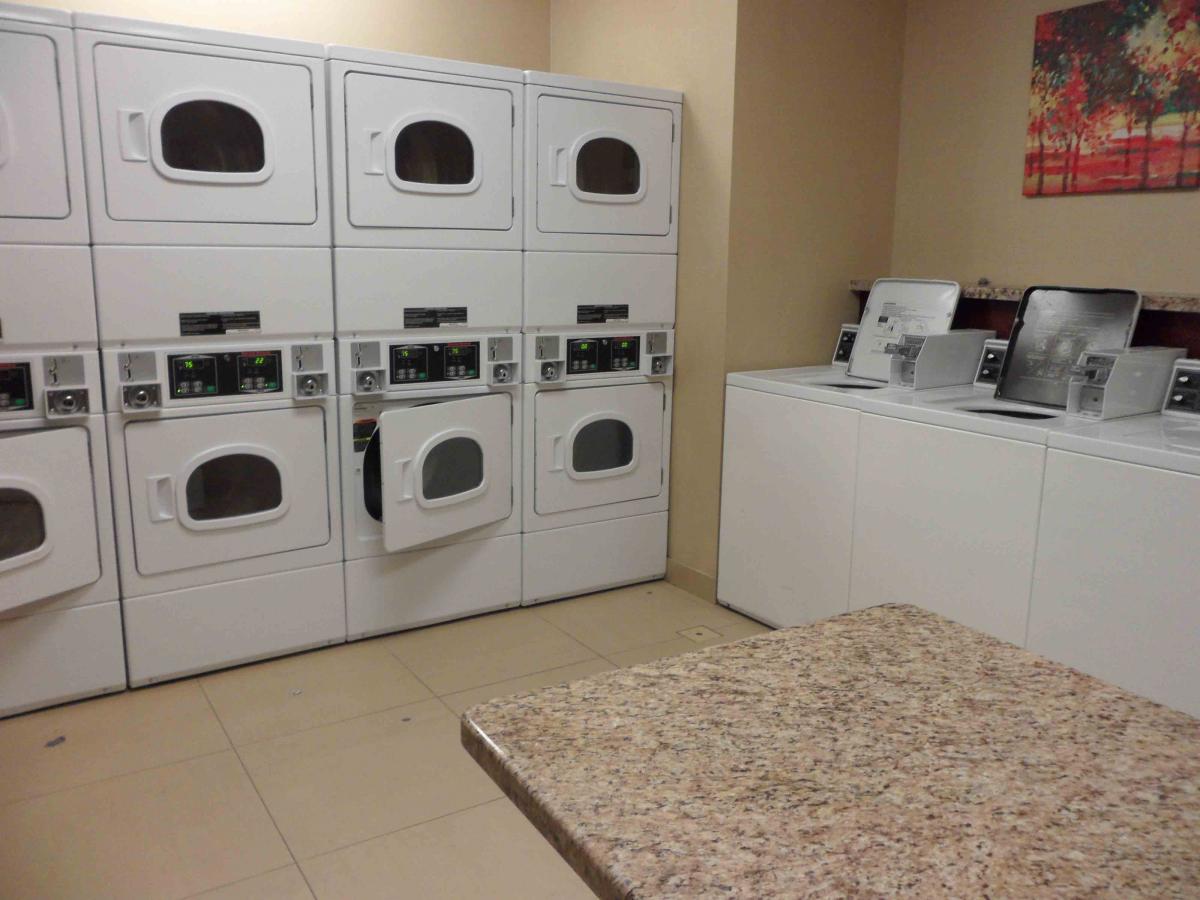 8 washing machines and 7 dryers in the laundry room.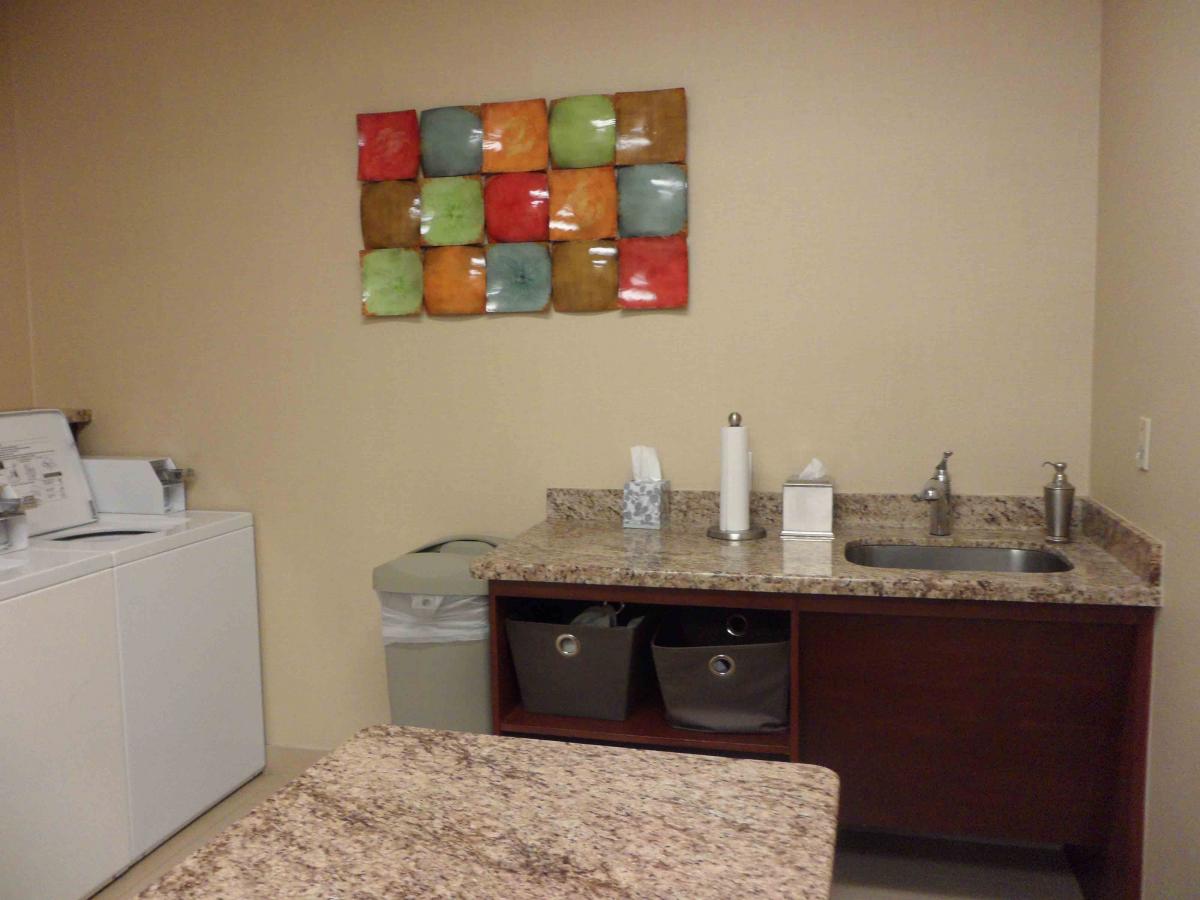 Sink and table for folding laundry.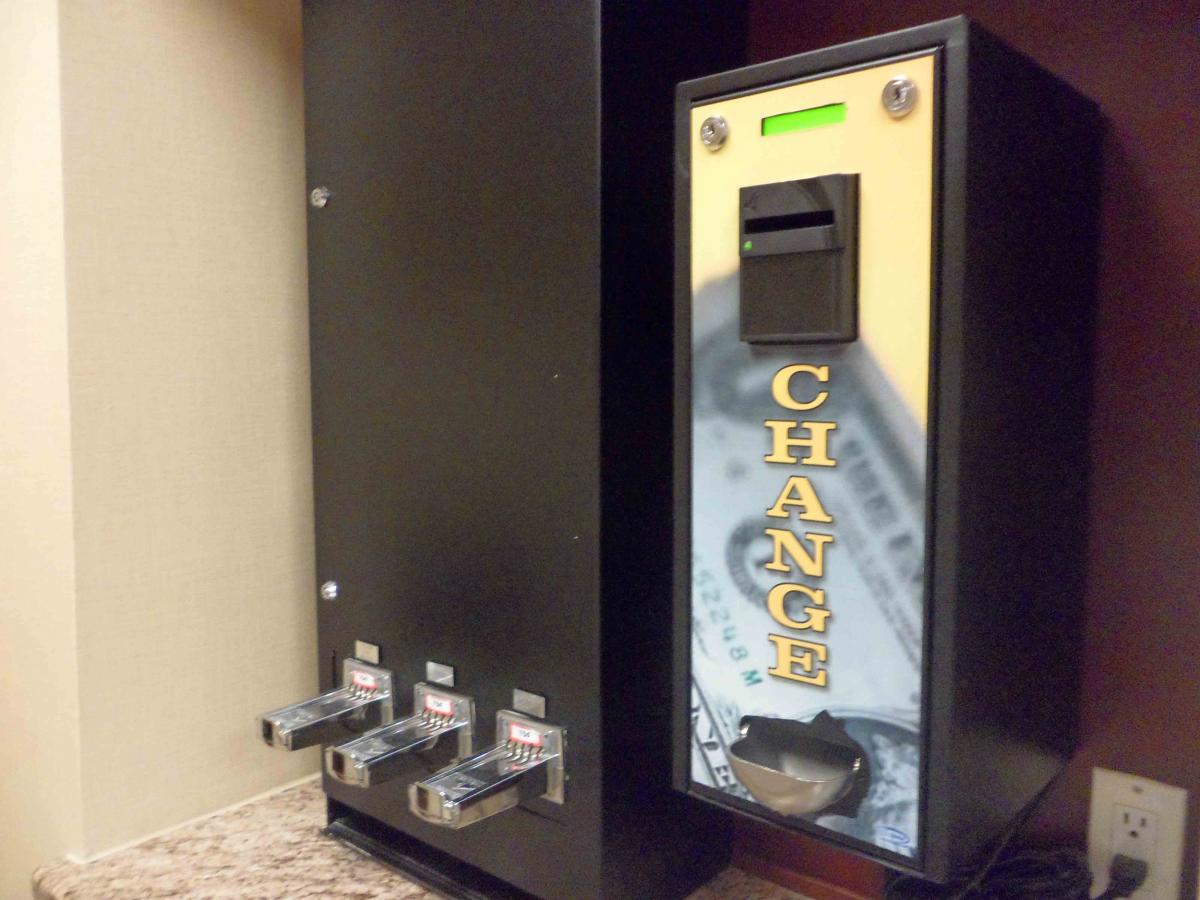 Laundry detergent vending machine (left) and coin changer for quarters (right)
It costs $1 for a wash, 75 cents for drying one load, and 75 cents for laundry detergent for one load. Only quarters are accepted, but quarters can be changed with the coin changer in the laundry room.
Mayfair Room
Location: Rotary House 1st floor, next to the Atrium.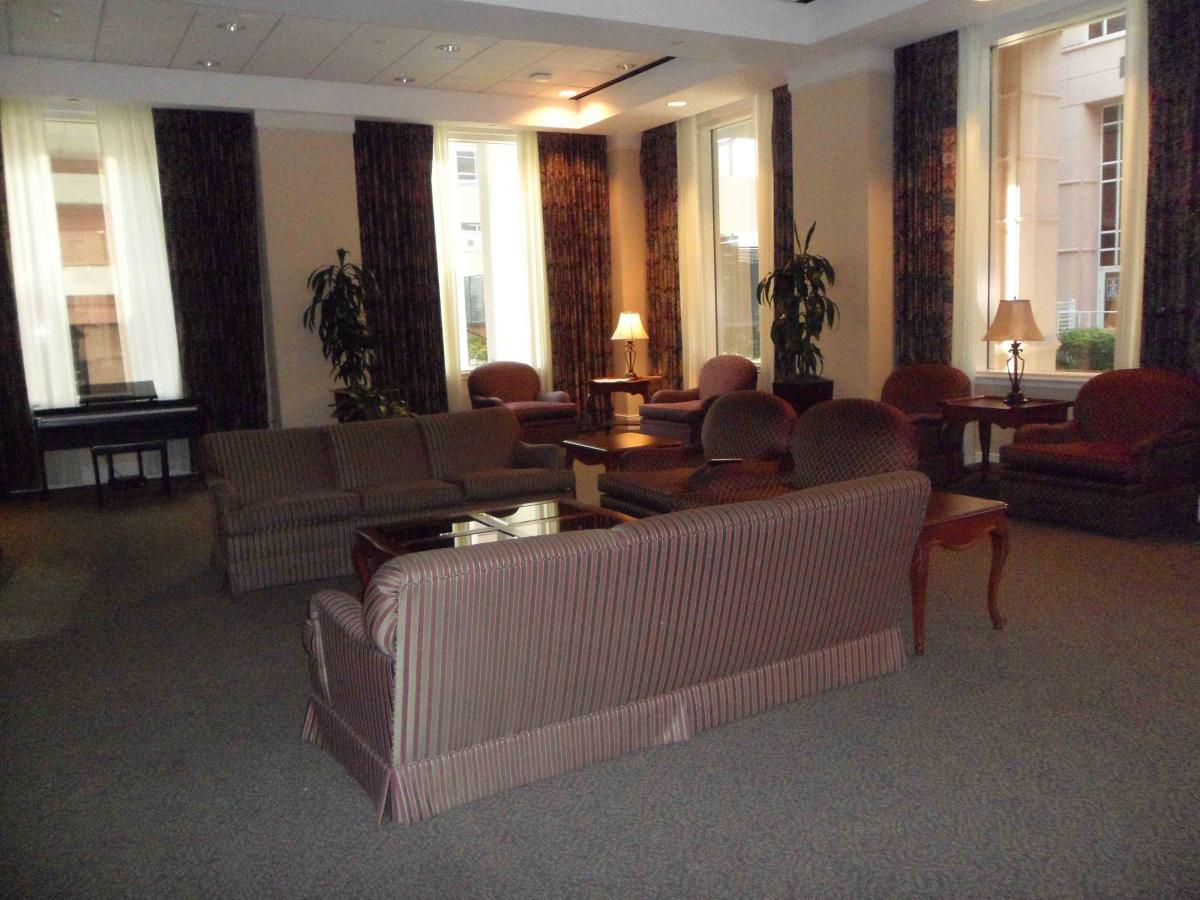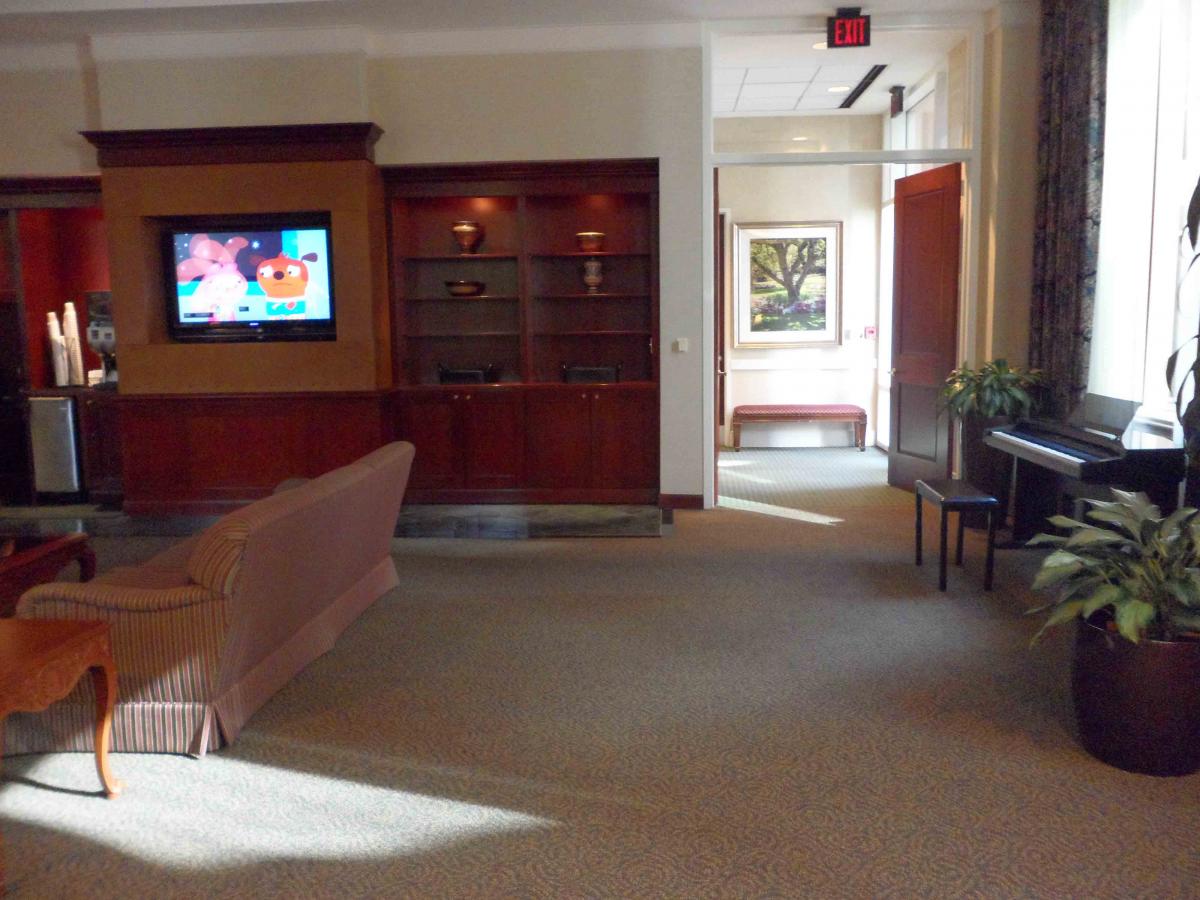 This is a large room with armchairs and sofas. For entertainment, there is a big screen TV and electronic piano. On some days, a movie will be shown here. Check the Rotary House Activity schedule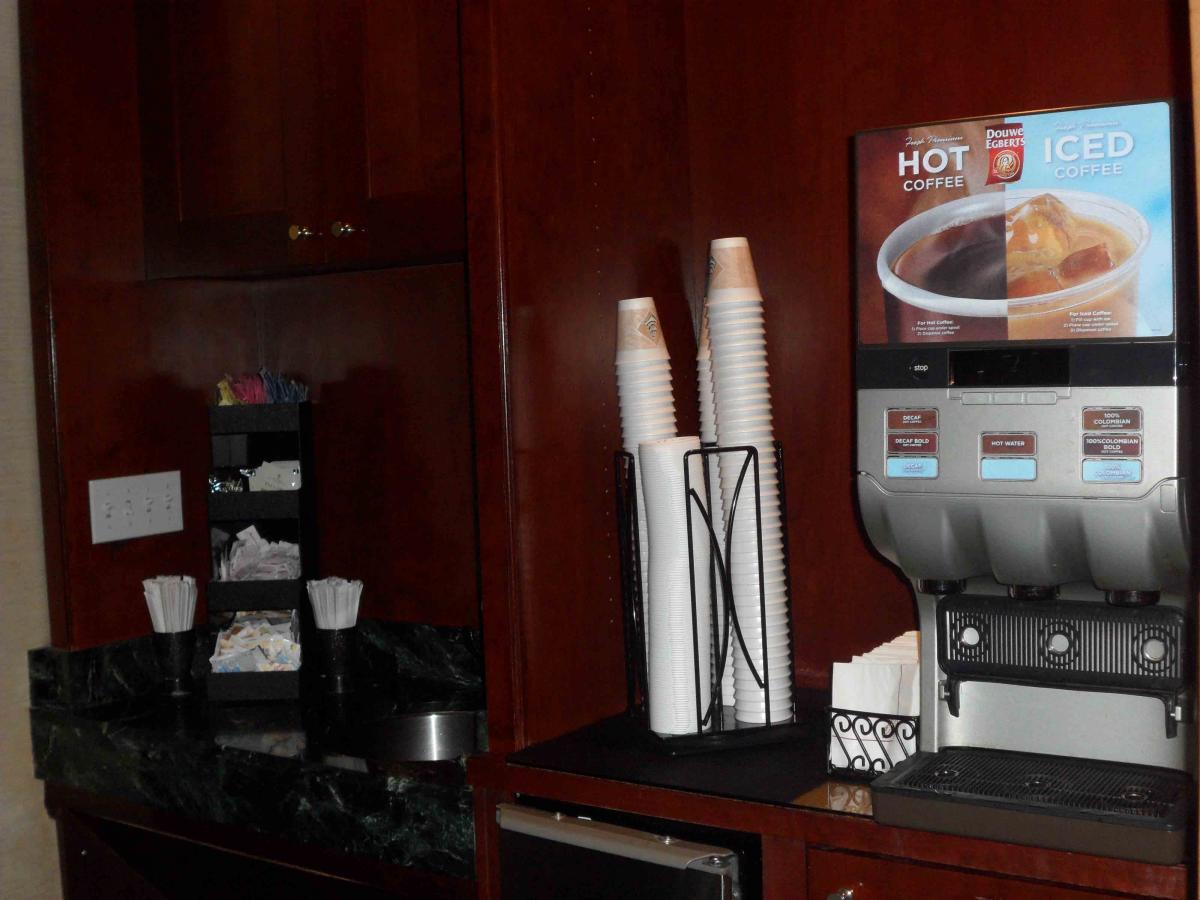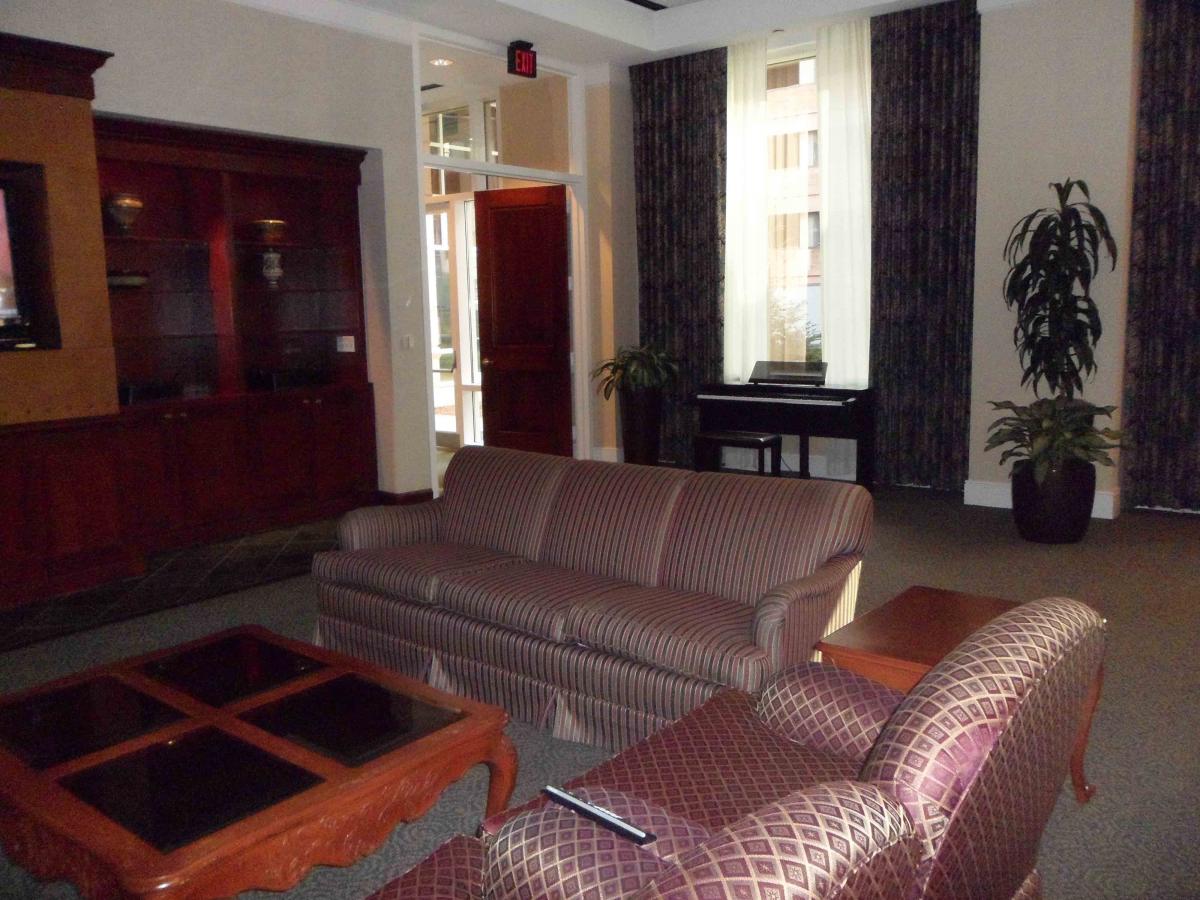 Complimentary beverages include regular and decaf coffee (hot or iced), English Breakfast and Organic Camomile tea. It's a great place to relax!
Quiet Room
Location: Rotary House 2nd floor, in between the Gift shop and the Rotary House elevators.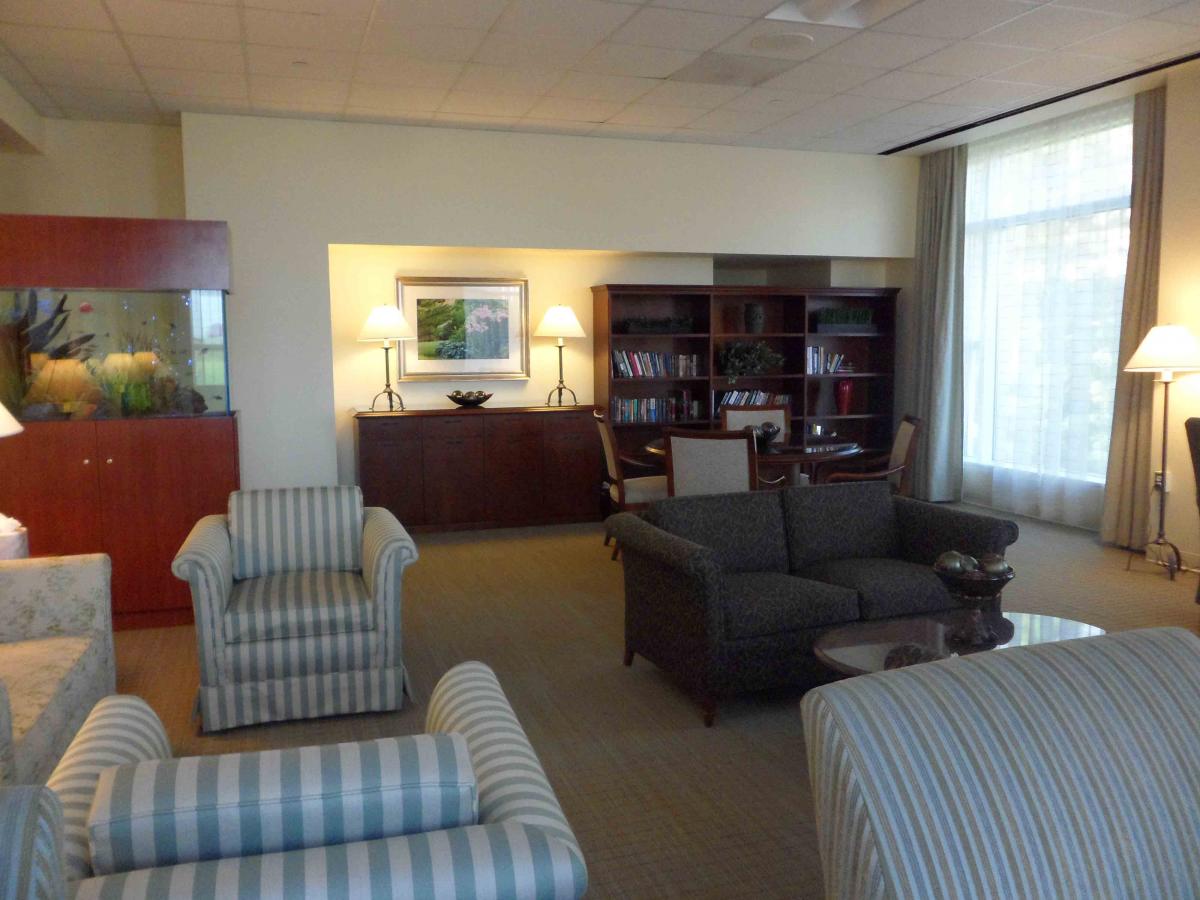 This is a hidden away quiet room that is only accessible with the Rotary House hotel room card key. There are many arm chairs and sofas, as well as a table with chairs. An aquarium sets the calm mood in the room, and it's a great place for reading, working or quiet reflection.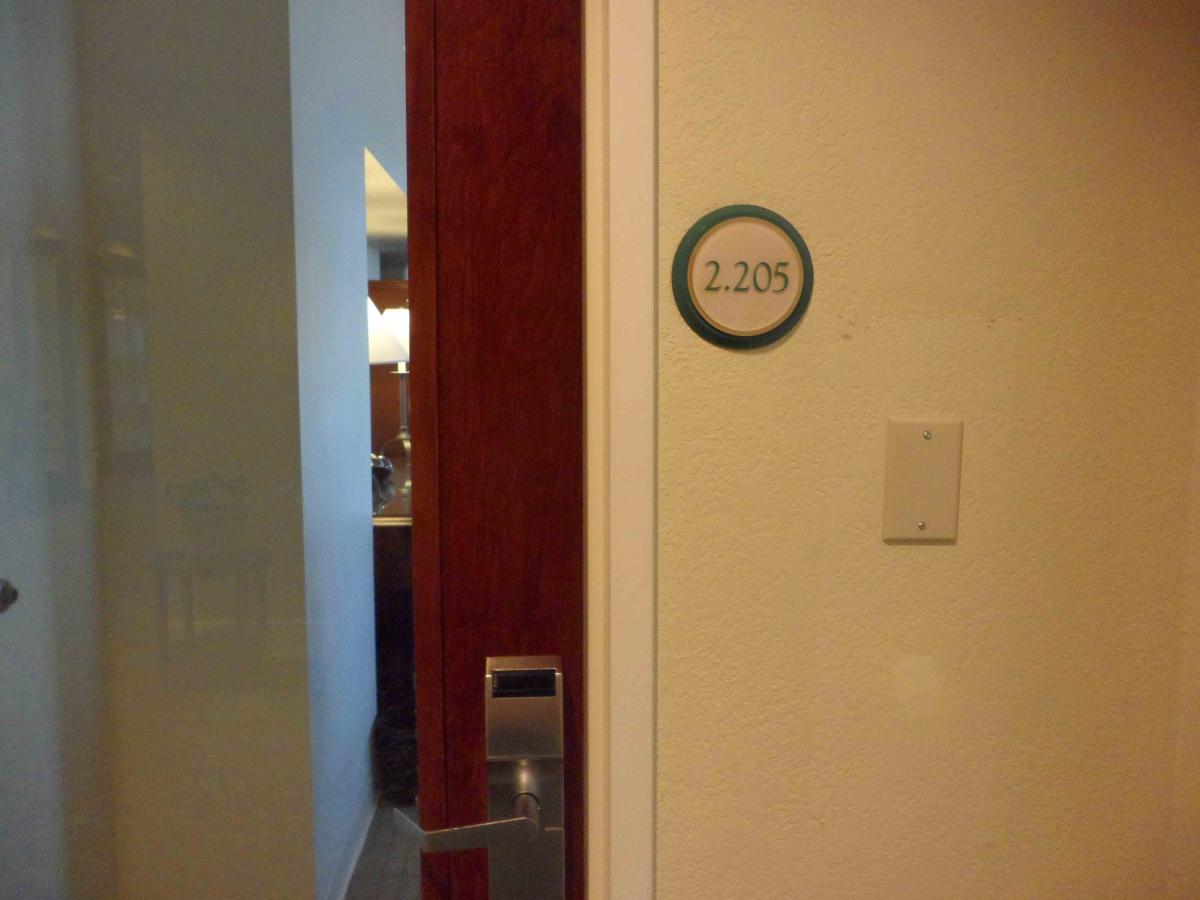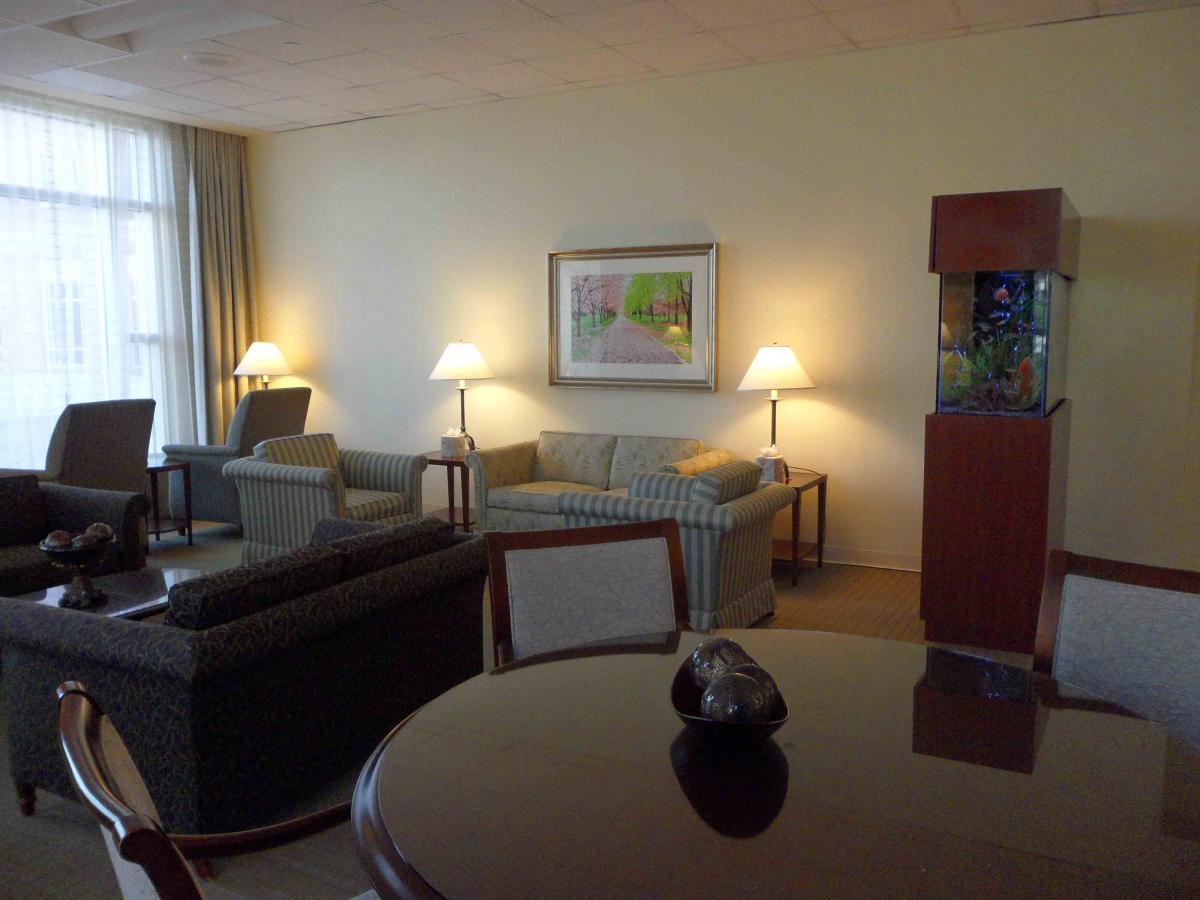 The entrance to the quiet lounge (left) and another view of the quiet room (right).
Shuttle Service/ Transportation
From the airport, take an airport shuttle or taxi to the Rotary House. For the return trip to the airport, it can be arranged informally with the hotel valets, who have their own transportation companies. Otherwise, an airport shuttle or taxi can be arranged for the trip to the airport.
There is a
complimentary free shuttle service
from the hotel to supermarkets, pharmacies, stores, restaurants and places of worship within a 2 mile radius of the hotel.
Click here for the list of locations the shuttle services.
When a pick up from the location is needed, call the shuttle service number at (713) 790-1600.
For more details on getting to appointment locations, parking and activities, check out the Guide to the Rotary House.